By Marty Dagoberto, NOFA/Mass Policy Director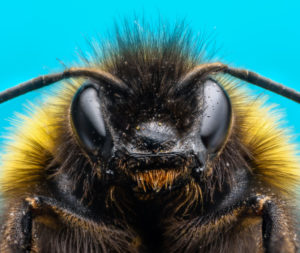 One thing we have to be grateful for this year is that the state government is finally updating its science on the impacts of neonicotinoid pesticides on pollinators. (Surprise! The science says they're harmful…) Now the challenge is to get regulators to act according to that science, and sooner rather than later. After years of delay, our pollinator friends can't wait any longer. 
A public (virtual) hearing has been announced by the Massachusetts Department of Agricultural Resources (MDAR) for December 10, 2020, from 10am to noon – "a public hearing on the findings of a scientific literature review that the Pesticide Board Subcommittee will use when determining whether current uses of neonicotinoid insecticides pose unreasonable adverse effects to the environment as well as to pollinators, and whether current registered uses of neonicotinoid insecticides should be altered."
Our followers will be pleased to learn that the Literature Review is, in fact, consistent with a number of global studies which have found adverse impacts of neonics on pollinators. The report provides a compelling case for restricting use of neonics – exactly what we've been pushing for for years in the form of the Mass. Pollinator Protection Act, H.763.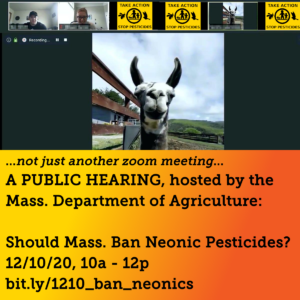 How to help encourage the Pesticide Board to take swift action on neonics: 
Attend the virtual hearing on 12/10 (10a – 12p) to witness the proceedings
A strong public showing will reiterate how important this issue is important to us!

 

Please note: We

 do 

want to reserve speaking time for academics, experts, those with direct experience and advocacy organizations. 

 

More details on attending the hearing are found below. 

 
Submit written comments to MDAR encouraging them to restrict the use of 

neonics

 
Solicit written comments from local government entities and community groups

 
C

omments from representatives of local governments and groups who have established "Pollinator Friendly Communities" will be particularly helpful.

 

Please forward them this information and ask them to submit comments by the deadline on 

December 

17 and to testify if they can during the hearing on 

December 10

.

 
Help promote

 

the hearing and this action alert to your networks by sharing on social media.

 
Stay tuned for future opportunities to attend Pesticide Board meetings and encourage action on toxic pesticides. 
Click here for more background and details for how to participate.