By Caro Roszell, NOFA/Mass Education Director
Farmers manage about 37% of the world's land mass. As NOFA/Mass followers well know, a significant proportion of the excess carbon in the atmosphere has been lost from the world's soils due to farming practices that are ecosystem-degenerative. Or, stated another way, the loss of life in the soils has resulted in a net loss of carbon in the soil, which then ends up in the atmosphere.  
The Northeast region, because of its cold winters, wetlands and forests, has traditionally stored a lot of soil carbon. However, land management practices from development pressure to farming have released significant amounts of soil carbon. (See historic, current and change maps below from Soils Revealed: https://soilsrevealed.org/).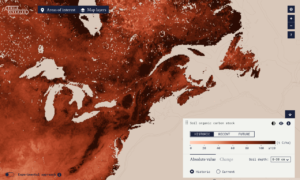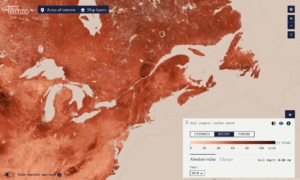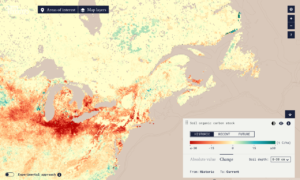 As the managers of these soil-plant-animal ecosystems, farmers are in the best position to return carbon to the soil. Unlike other carbon sequestration efforts, such as reforestation, carbon farming doesn't take land out of production but focuses on improving soil quality and putting carbon back in the soil where it has multiple benefits. Carbon in soil means bigger, stronger, and healthier crops. 
As understanding of the way that soil ecosystems impact the planet's very life support systems, farmer interest in soil carbon sequestration has rapidly grown. Yet, the ability to evaluate soil carbon levels and soil health has remained stubbornly in the realm of labs, soil scientists and researchers. 
This is why NOFA/Mass and our sister NOFA chapters have worked to assemble, synthesize and make accessible a set of tests to evaluate and assess soil health / soil carbon sequestration capacity. These tests, drawn most immediately from institutions like NRCS and Cornell, are rooted in the indigenous practice of deep soil observation.   
The NOFA Carbon Proxy tests observe the soil as an ecosystem, and directly measure the aspects of soil biology that are proxies for the presence of carbon. Such tests are inexpensive, can be done on the farm, and can give immediate results. As a part of its soil carbon program, NOFA/Mass has developed such tests over the past 5 years.
SARE Project 
The NOFA Carbon Proxy Tests were developed and assembled from a range of research, lab, agency and organizations' protocols and have been adapted, streamlined and refined over the years for accuracy, accessibility, efficiency and to bring them into alignment with new NRCS recommendations for field soil health assessment protocols.  
With funding from The Sustainable Agriculture Research and Education (SARE) program, NOFA/Mass is partnering with NOFA-NY and CT NOFA to train their staff to conduct the Carbon Proxy Test protocols and to, in turn, offer soil health evaluations to farmers in their states as well as to train farmers to do their own in-field evaluations. 
Farmers in all three states have agreed to receive testing for three years in a row, which will allow technicians to practice the tests as well as to observe typical changes and variations from year-to-year on a set farm.  
At the end of the three years of testing, we will review the three years of collected observations and see what kind of changes we observed; we will also see if any changes happened more noticeably at one farm or another based on management practices, local weather conditions (such as heavy precipitation or drought) or animal or cover crop rotations.  
Throughout the project we will be providing public education and programming about soil health; so look for workshops, conference proceedings, podcasts and webinars from us on this topic, especially featuring our farmer participants!
Farmer Participants  
We are so excited to partner with our three farms:
Grindstone Farm in Pulaski, NY has been growing certified organic fruits and vegetables for over 35 years and they are well-known as a leader in Central New York. Grindstone Farm has collaborated with NOFA-NY in a variety of ways including on-farm field days and presenting at the NOFA-NY Winter Conference.
Simple Gifts Farm produces vegetables and livestock in Amherst, MA. Simple Gifts collaborated with NOFA/Mass on a three-year MDAR High Tunnel Mentorship Program during which they mentored a beginning farmer and offered on-farm education and support about innovative greenhouse practices. Simple Gifts Farmer Jeremy Barker Plotkin has also co-hosted several episodes of the NOFA/Mass podcast, offered many workshops, and contributed to the NOFA/Mass newsletter. 
Massaro Farm in Woodbridge, CT serves a 200-member CSA and has a weekly presence at area farmer's markets. The farm includes ~42 acres of woods and wetlands along with 15 acres of fields, with 10 acres currently cultivated producing fruit, vegetables, flowers, and honey. 
We look forward to providing you with updates as we progress on this project! For updates, be sure to read the newsletter, subscribe to our podcast, and follow our social media. And, if you've read this far you are clearly interested in soil health, so be sure to register for the NOFA/Mass Winter Conference so you don't miss our Soil Health track. Hope to see you there!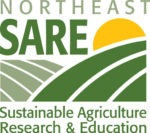 This material is based upon work supported by the National Institute of Food and Agriculture, U.S. Department of Agriculture, through the Northeast Sustainable Agriculture Research and Education program under subaward number ONE20-378].