By Marty Dagoberto, NOFA/Mass Policy Director
Pesticides Hearing expected for Early October (?)
We are still waiting for a date for the big public hearing on numerous pesticide related bills being considered by the state legislature. We might very well have an update by the time you read this. Our June Newsletter article is still in effect with the relevant information and will be updated when we get the word. 
This hearing is a critically important opportunity to demonstrate support from the movement for healthy living landscapes and toxins reduction. We encourage all supporters to submit testimony and are seeking subject matter experts and grassroots leaders to speak the day of the hearing. To make sure you receive a notice as soon as we get the word, please fill out this form and stay tuned!
ACTION ALERT: Demand Danone/Horizon Stand with NE Organic Dairy Farms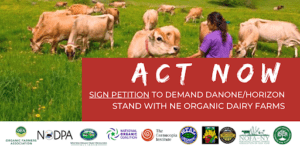 Danone (owner of Horizon Organic Milk) is the global leader in fresh dairy products, owns over 20 brands, and is a $10.3 B company, but they claim they cannot afford to continue to support family organic dairy farms that have helped build the Horizon Organic brand for decades. Instead, they have just abruptly ended contracts with 89 Northeast organic dairy farm families.  As a certified "B Corp" Danone is required to use its business as a force for good, but this action from Danone is disgraceful and will hurt Northeast farm families and their communities.
Sign your name to this petition to demand Danone do the right thing and reinstate these farmers who are producing organic milk the right way. Treat family farmers with R-E-S-P-E-C-T!   Add your name to our petition.
More information can be found here: 
https://organicfarmersassociation.org/news/danonepetition/
NOFA/Mass and Mass. Pollinator Network support Dark Skies Bill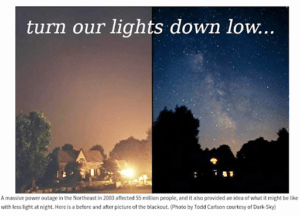 Our survival depends on climate resilient food systems which in turn rely on healthy ecosystems. Ensuring the integrity of the natural cycling of darkness and sunlight is an important aspect of natural and agroecosystem function. Artificial light at night (ALAN) is a pervasive global change that strongly impacts insects and other wildlife.
In support of insect biodiversity and natural cycles, NOFA/Mass and the Massachusetts Pollinator Network have endorsed proposed legislation "An Act to Improve Outdoor Lighting, Conserve Energy, and Increase Dark-Sky Visibility," (S.2147/H.3306, filed by Sen. Cynthia Creem and Sean Garballey).
This bill would begin to address the problem of light pollution by ensuring that all publicly funded lighting going forward uses shielded lighting, lower brightness (lumens) and warmer colors (less harmful than blue lighting). The bill would also require the Mass. Dept. of Transportation to study alternatives to lighting roadways. Many countries in Europe already use reflectors on streets instead of lights, a change that dramatically reduces light pollution.
Read more about this effort and sign the petition from the Mass. Chapter of the International Dark Sky Association. 
Northeastern Queer Farmer Wellness Microgrant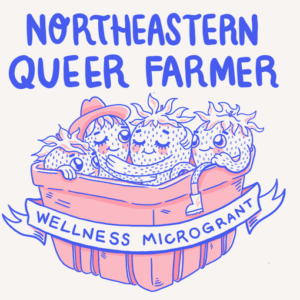 From our sibling organization, MOFGA: "Are you an LGBTQ+ farmer in the Northeast? The Northeast Queer Farmer Wellness Micro-grant is now accepting applications until October 27th. Distributed in amounts of $100, $250, or $500, these funds can be used to support queer farmers in their mental health and wellness needs (broadly defined)."
See (and share) our facebook post for more details.