By Andrew Laurion, NOFA/Mass Bioremediation Project Coordinator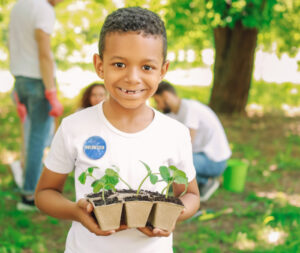 Behind the site of the Walnut Street community garden in Springfield Massachusetts, there's a 25' x 25' section that hasn't been developed or incorporated, due to a concern that the soil has been contaminated and isn't suitable for growing food. Unfortunately, this is a very common issue faced by people who would like to grow food in urban areas. In Springfield, we frequently have to deal with soil contaminants like petroleum hydrocarbons, lead from paint and gasoline, and other heavy metals in our soils. 
Through the NOFA/Mass Bioremediation Project, we have learned that some of our community's favorite vegetables to grow (including collard greens, mustard greens, and lettuce) can easily uptake and incorporate contaminants from the soil that we will eventually consume, whereas rooting plants (like cucumbers and tomatoes) may not carry as much risk. 
In each step of the bioremediation process there are questions that come up and information to be learned. That is what has drawn me to this project the most. With soil contamination being such an issue in inner cities, which are filled with black and brown people like myself, I believe this is our work to lead. Our story to tell. Our spaces to claim. History shows us that help is not always help when it comes from the outside. This is another reason why it is important that the community and youth from Springfield, and around the world, engage with our land, soil, food, health, and all of their connections. 
Through a three-year grant funded by MDAR, we are able to work with specialists and consultants who are fully aware of NOFA/Mass's mission and goals to increase production and availability of nutritious food from living soil, and through the continued work of the Bioremediation Project, we can begin to implement natural methods to remediate our soil and make it safer to grow our own food.
One thing we have learned to avoid is the "remove and fill" or "cap and dump" method of replacing contaminated soil with new soil, for a few reasons. One reason is that it is super costly to rent the equipment to have soil removed and replaced. Another is that moving contaminated soil from one place to another does not remove the toxins from the earth, it just moves the contaminants to somewhere else, and that's not what we want to encourage either. To deal with contaminated soil in place, we will be trialing natural soil remediation methods such as using plants, fungi and bacteria to transform polluted soil into healthy soil.
The youth at Gardening the Community (GTC) will be involved in the project, learning along with us and educating the public on how to take soil and plant tissue samples, how to make natural fermented soil amendments and compost teas, how to incorporate cover crops and remediating plant assortments, and possibly even make biochar. We will look through microscopes to explore our changing soils and engage with consultants like Willie Crosby from Fungi Ally, and Nance Klehm from the podcast "Spontaneous Vegetation". 
Gardening the Community is ​"a food justice organization engaged in youth development, urban agriculture and sustainable living to build healthy and equitable communities". Over it's past 20ish years, GTC has provided an abundance of wealth to our community, including the improved health of our soil and the health of our community in Springfield, MA. In fact, we have tested the soil in the garden beds where we grow produce for our farm store, and for the youth leaders to eat, and the soil has shown increased organic matter over the time that we've been growing onsite.
Along the way we've made friends and allies who are either interested in the work we are doing with the NOFA/Mass Bioremediation Project, or who are doing similar work themselves, like Niveen Ismail and her team from Smith College, Microbes by Marco, who our team follows on Instagram, community members, and more. 
Throughout this project we have realized that there is much more going on in these urban growing spaces than simple gardening and soil testing. When we are in this space, we use all of our senses and connect on a deeper level. We are meeting more people in our communities and at the same time, we are meeting micro organisms and being introduced to life beneath our feet. We are even setting "microbe traps" to dive deeper into the world below, and are learning about the soil food web. (What is a "microbe trap" you ask!? Follow Gardening the Community online at gardeningthecommunity.org or visit us at 200 Walnut St, Springfield, MA (Farm Store and garden) or 256 Hancock St, Springfield, MA (Garden) to learn more.)
When you're on your own growing site, what do you hear? What do you see and smell? Is there something to taste? How do you feel when you are in that space?
Our community members are engaging and telling stories about the shared place where we are working. There is a rich oral history that surrounds us in this work that is absolutely a part of the remediation process. We are healing soil and healing people.