By Marty Dagoberto, NOFA/Mass Policy Director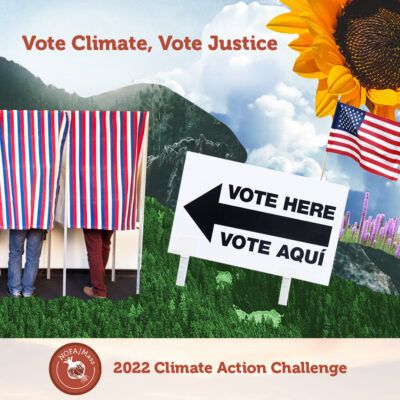 The following is an excerpt from our 2022 NOFA/Mass Climate Action Challenge educational content which is especially relevant as we approach election and voting day next week. To read all of our Climate Action Challenge material visit our website.
Climate action is always on the ballot. While we can't endorse candidates as a non-profit, we can say that you should definitely vote on November 8th! (Other state climate groups have likely produced Massachusetts climate voter guides. Try a quick internet search to see what other activists are recommending for climate concerned citizens.)
We can endorse ballot initiatives, and two measures which we at NOFA/Mass have previously endorsed do intersect with climate justice and resilience (as most things do)!
YES on Question 1. The Fair Share Amendment would institute a state tax on incomes above $1 million. This would raise billions of dollars to invest in transportation and public education. Climate resilience requires investments in infrastructure, and those who profit most from the current fossil fuel paradigm need to pay their fair share!
"As organic growers, we know that investing in our soil with regenerative practices is the best way to keep it healthy for future generations. The Fair Share Amendment follows the same principle: investing in our schools, colleges, roads, and transit will strengthen Massachusetts' economy and make it work for everyone. NOFA/Mass farmers understand what's important about the Fair Share Amendment: only people who earn more than $1 million in a single year will pay more, and we'll all benefit from better roads and schools, and a stronger economy." -Jocelyn Langer, NOFA/Mass Executive Director in a press release (June 6, 2022) 
YES on Question 4. The Work and Family Mobility Act will help undocumented farm workers across the Commonwealth gain access to transportation, improving road safety overall. Marginalized populations like immigrant farmworkers are also on the frontline of climate change. 
"Most of the food grown in the United States is produced under physically demanding, unstable, low-paying conditions, and studies show that up to half of farm workers are undocumented… They pay taxes while being ineligible to collect any federal unemployment or retirement and while commonly being denied any pathway to legal residency. The right to obtain a driver's license is a small change with huge impacts for these communities, enabling them to drive safely to work, to feed their families, and to live their lives without daily fear." – Phil Korman, Executive Director of CISA in this opinion piece on the Work and Family Mobility Act.