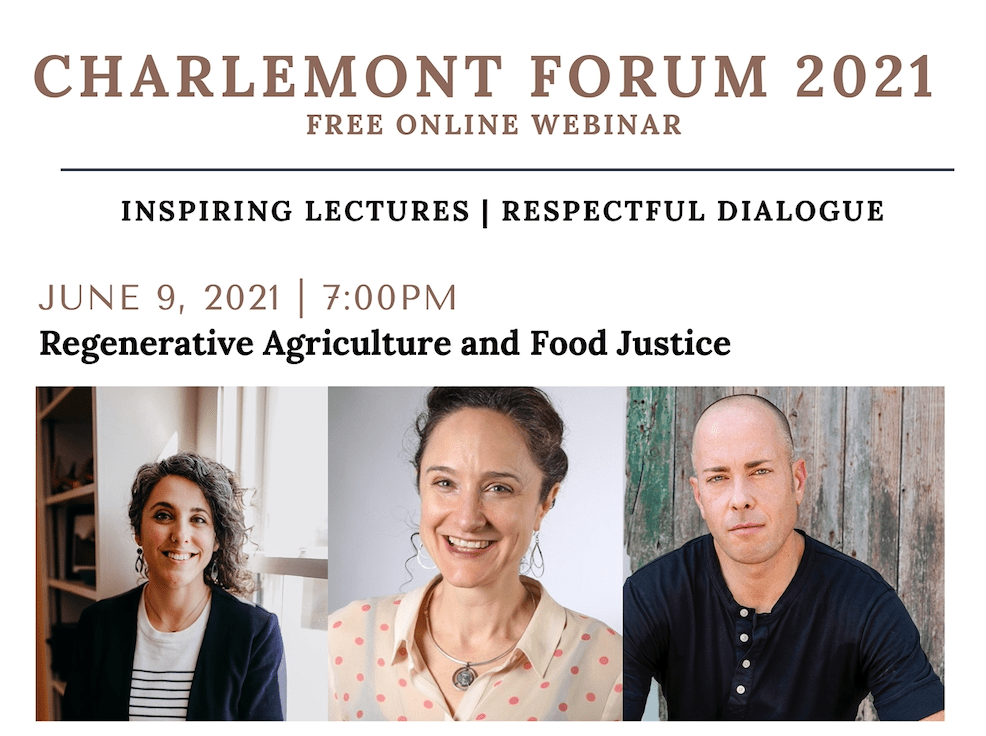 June 9 @ 7:00 pm

-

9:00 pm
Join soil specialist Jeff Tkach of the Rodale Institute, Jessica O'Neill, Executive Director of Just Roots, and Seattle-based Eco-Dietitian Mary Purdy to explore the importance of soil health, the necessity of equal access to land, and advocating for the right to grow one's own food. More ecologically friendly farming methods may be one path towards healing our planet and assuring positive nutritional health outcomes for us all.
Participants will learn the role they can play in creating a more just and sustainable food system from personal consumer choices to advocating for change on both local and systemic levels.
Register for this free event here. or email forum@charlemontfederatechurch.org
The webinar link will be sent out two weeks prior to the event.
closed captioning available
Donations are welcome: make out checks to CFC/Charlemont Forum Charlemont Federated Church / 175 Main St., Charlemont, MA 413 339 4294
A Joan Tabb Boer Memorial event with additional grant support of the Cultural Councils of Amherst, Ashfield, Buckland, Charlemont/Hawley, Colrain, Conway, Goshen, Heath, Leyden, Plainfield, Rowe and Shelburne, local agencies supported by Mass Cultural Council, as well as gift from a Hawley neighbor