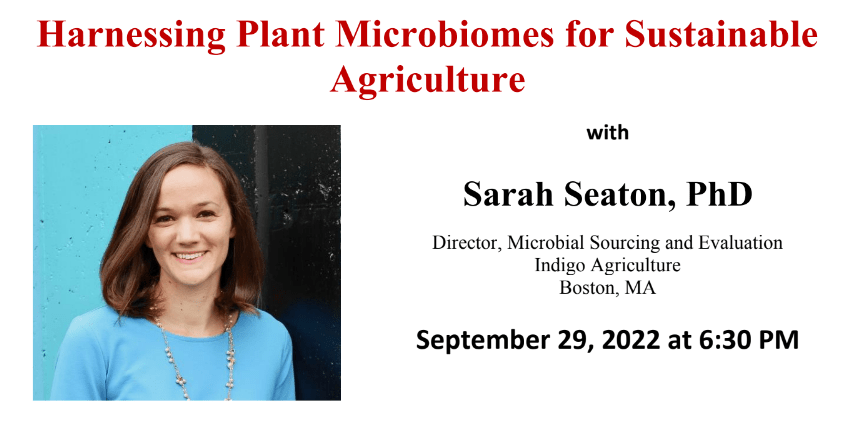 American Society for Microbiology: Harnessing Plant Microbiomes for Sustainable Agriculture
September 29 @ 6:30 pm

-

7:30 pm
with Sarah Seaton, PhD Director, Microbial Sourcing and Evaluation, Indigo Agriculture, Boston, MA 
Thursday, September 29, 2022 6:30 pm EST
Currently Director of the Microbial Sourcing and Evaluation team at Indigo Ag, Sarah leads a team of researchers responsible for isolation and characterization of beneficial plant-associated microbes that increase yield and decrease the need for chemical inputs in agricultural crops. Prior to this role, Sarah received BS degrees in Chemistry and Biology from High Point University and a PhD in Microbiology from the University of Georgia, where she studied the potential of soil bacteria to catabolize organic pollutants.  Sarah completed post-doctoral research in plant-microbe interactions at Tufts University School of Medicine and worked as a Research Scientist at Harvard Medical School, studying the effect of the gut microbiome on metabolism and health. Before joining Indigo, Sarah was an Assistant Professor of Biology at the University of North Carolina Asheville, where her research lab focused on isolation of soil bacteria that produce antibiotics or other interesting natural products.
Sponsored by: 
The Northeast Branch, American Society for Microbiology
Share This Story, Choose Your Platform!