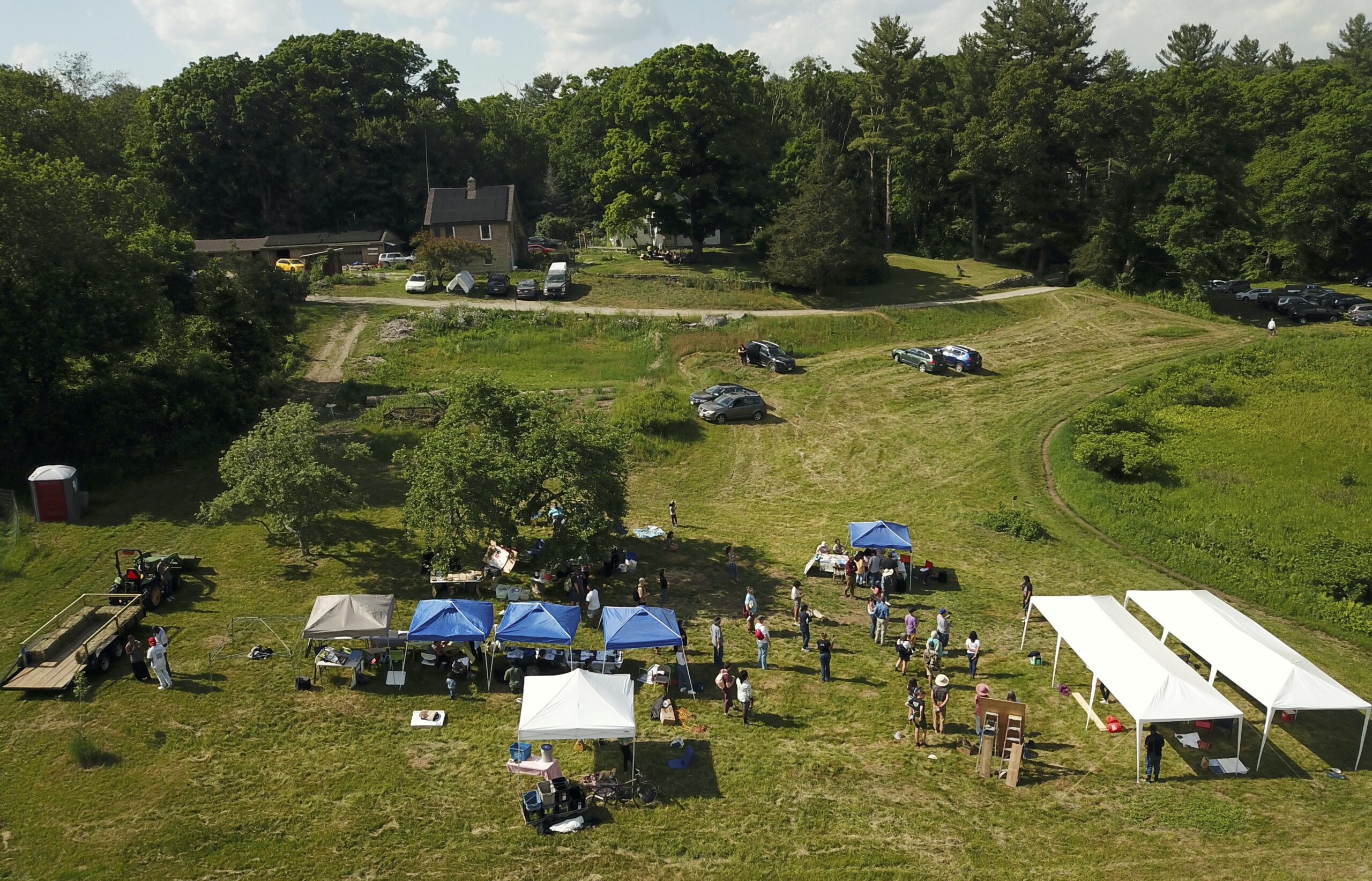 Community Scale Soil Health
July 10 @ 9:30 am

-

4:30 pm

|

Free – $77
Community Scale Soil Health at Global Village at Tuck Away Farms
How to make compost, compost tea and compost amendments!
Sunday, July 10, 2022
9:30am – 4:30pm
Global Village Farm
50 Moroney Road
Grafton, MA 01519
Come learn how Global Village Farm's no-till practices are integral to their mission of building a more resilient community.
Throughout the day we will:  
Learn how Global Village Farm's no-till, cover crop, and community harvest practices are informed by their ancient Mayan/African diasporic agricultural values and practices.

Learn how Global Village Farm's community and educational efforts are complemented and supported by no-till practices.

Learn how Global Village Farm went from a meadow/sod field into a raised-bed, no-till system using all human power and hand scale tools.

Discuss ways in which these management practices can nurture the soil and prevent and alleviate issues including soil compaction

Learn about Global Village Farm's experiments with tarps, permanent beds, perennial and living cover crop, and intercropping. Dive deeper into our comprehensive system for successive crop production of lettuce to learn how to maximize yields while growing nutrient-dense and beautiful food.

Learn the essentials of bed prep in a no-till, permanent bed system for both direct seeded crops and transplants.

Learn about compost, vermicompost, biochar, compost tea and extracts and compost amendments mixes!
We will also:
Enjoy lunch on the farm and mingle with other farmers. 

Learn several methods to assess soil health onsite with simple and inexpensive tools.
Schedule/Agenda:
9:30 – 10:00am – Arrival and Blessing
10:00am – 12:00pm – Workshop station (1st Block)
12:00pm – Lunch (Culturally appropriate food. Activities at lunch tables for people to mingle.)
1:00 – 2:00pm – Discussion of NRCS services, Global Village Farm Tour (Jill, team) (2 or 4 teams)
2:00 – 4:00pm – Workshop station (2nd Block)
4:00pm – Wrap Up & Thank You
Register Online Now:
http://www.wixevents.com/viewEvent/bbbdb86c-16dd-467e-81b1-3441e9cfe0ee
Sliding scale registration fees from $0-$77
Volunteers and instructors who will be helping to present at this NOFA/Mass event:

(More info on Global Village volunteers below.)
Ulum Pixan Ahtohil Suk'il (original name), aka Dania Flores (colonized name), (she/her) is an Indigenous mixed-race woman (Maya, Xinca, Garifuna, Russian Jew and ladino), mother and grandmother. She was born in Guatemala, Mesoamerica, and moved to the United States in 1999. She has always been involved with community organizing around aboriginal, women's, language, and environmental issues. Ulum is a critical thinker, farmer and activist. As NOFA/Mass's Education Director she leads the educational efforts of the organization, promoting organic and sustainable agriculture and is an active member of the Equity and Inclusion committee.
Matt Feinstein (he/him) is Co-Director of Global Village Farms and is motivated to turn the compost piles weekly when his 2 year old son says "let's dig and dump with the big green tractor". He is also the Co-op Clinic Program Manager with the U.S. Federation of Worker Cooperatives and loves worker co-op development and movement building.
Jen Salinetti (she/her) co-owns a regenerative, no-till, biointensive vegetable farm, CSA and education center in the Berkshires. She will do an introduction into Systems & Methods of Regenerative Farming.
Ruben Parilla (he/him) works as the Soil Tech Coordinator for NOFA/Mass where he is responsible for implementing and performing field sampling protocols. He has 15 years of experience in the Environmental Laboratory industry and is currently pursuing microscopy certification through Dr. Elaine's™ Soil Food Web School. Ruben believes in the guiding principles of land stewardship and that we all share this responsibility. When he is not actively working the land, Ruben enjoys gathering forest medicine, fermentation and home gardening to name a few. Finalmente, Rubén es bilingüe y quiere saber de usted.
Monique Bosch (she/her) is trained in landscape design, horticulture and soil biology and she teaches microscopy, composting, and soil health. She operates Wiggle Room, a vermicomposting company, with her son Justin. She works as the Soil Health Lead for CT NOFA. She co-founded and ran Green Village Initiative, an urban farm and school garden non-profit in Bridgeport, CT. Monique will lead the soil biology presentation and training for this workshop.
Jill Ferreira
Dania
Jane Olsen
About Global Village Farm:
Global Village at Tuck Away Farm is a 52 acre farm with a 2.5 garden located in Grafton, MA, working to build a more resilient community through the integration of educational experiences, justice work, and regenerative agriculture. Global Village Farm was founded in 2018 and is a project with the social and spiritual mission based on the ancestral practices of "Buen Vivir".
Informed by many ancient Mayan agriculture practices, Global Village @TAF uses a raised-bed no-till system, integrating cover crops, mulch, intercropping, and other practices that work to sequester carbon back into the soil. In addition, they run a beginner farmer peer program where people are invited to come to the fields and harvest food as they choose.
About Volunteers:
Global Village Farm volunteer program takes place on Sundays in the spring and fall, and runs during the summer as well. Volunteers help with every aspect of the farm and bring very important energy and enthusiasm to our project, including an array of social movements.
Registration Fee:
Equitable Sliding Scale: 
NOFA Members:
Market Value: $55 – NOFA Members

Lower Income/Wealth Bracket: $44 (20% OFF Market Value) 

Middle Income/Wealth Bracket: $66 (20% ABOVE Market Value)

Upper Income/Wealth Bracket: $77 (40% ABOVE Market Value)

Solidarity Scholarships:$0-$33 (40% – 100% OFF Market Value *)
Non-members:
Market Value: $75 – Non-Members, 

Lower Income/Wealth Bracket: $60  (20% OFF Market Value)

Middle Income/Wealth Bracket: $90 (20% ABOVE Market Value)

Upper Income/Wealth Bracket: $105 (40% ABOVE Market Value)

Solidarity Scholarships: $55-$0 (40% – 100% OFF Market Value *)
Consider Paying More On The Scale If You:
Own your home(s), have investments, retirement accounts, inherited money.

Travel recreationally, work part-time by choice, have access to family money and resources in times of need. 

Have a relatively high degree of earning power due to level of education, gender and/or racial privilege, class background, etc. Even if you are not currently exercising your earning power, we ask you to recognize this as a choice. 
Consider Paying Less On The Scale If You:
Are supporting children or have other dependents.

Have significant debt, have medical expenses not covered by insurance, have tuition/educational expenses.

Receive public assistance.

Have immigration-related expenses.
Scholarships available: Apply here
More Information:
Portions of our farm tour will cover uneven terrain. We want to make sure your accessibility needs are met during the event. Please share with us your needs regarding (but not limited to): physical accessibility, allergies, noise, scent, gender, intellectual accessibility, and any instructions or tips to help you fully participate.
Masks are not currently required at this location but are greatly appreciated and encouraged. If you don't feel fully healthy it is okay to stay at home. We will share a quick video recording of this event with registered attendees, followed by a separate online event with similar content.
Directions:
From the parking lot: 
As soon as you arrive at Global Village Farms 50 Morroney Road Grafton Massachusetts, you will go down the hill and pass the little bridge. To the left there will be signs to the parking area (green grass along the river, enough parking for 20 cars). Please do not drive up the driveway if you are not staying for the whole event as you might get parked in.
Google Map:
Global Village Farms
Capacity:
Capacity for this event is limited to 50 people. Please remember to abide by current MA state guidelines for group gatherings and travel to minimize the transmission of COVID-19. Register ahead of time to secure your space!
Refund/Inclement Weather Policy:
For information on our refund and inclement weather policy, click here. 
Questions?
Contact Dora Miller, NOFA/Mass Educational Events Coordinator, at dora@nofamass.org or 857-265-0598
Thank you to this event's sponsor!
Massachusetts Department of Agriculture (MDAR)


Share This Story, Choose Your Platform!