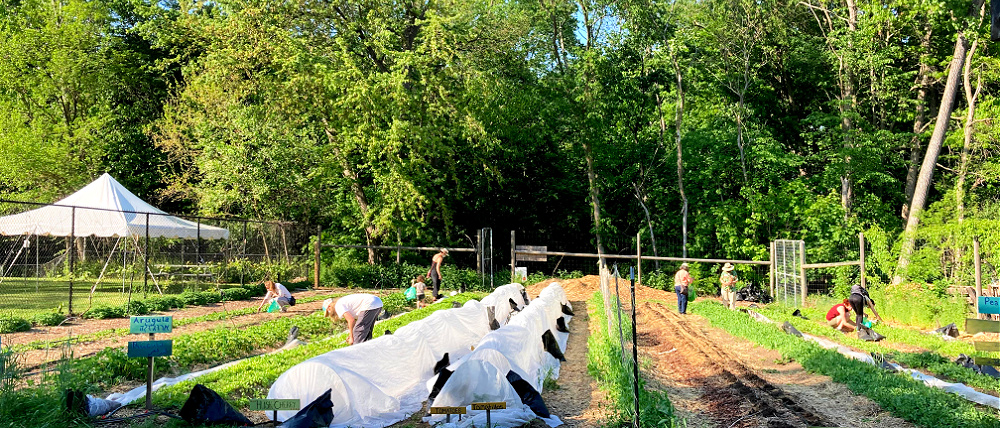 How to Start a No-Till, Community-Powered Farm
May 10 @ 1:00 pm

-

6:00 pm

|

$16
Come learn how Abundance Farm's no-till practices are integral to their mission of building a more resilient community.
Throughout the day we will:  
Learn how Abundance Farm's no-till, cover crop, and community harvest practices are informed by their ancient Jewish agricultural values.

Learn how Abundance Farm's community and educational efforts are complemented and supported by no-till practices.

Learn how Abundance Farm went from a meadow/sod field into a raised-bed, no-till system using all human power.

Learn about Abundance Farm's experiments with tarps, permanent beds, perennial and living cover crop, and intercropping.
We will also:
Enjoy lunch on the farm and mingle with other farmers. 

Learn several methods to assess soil health onsite with simple and inexpensive tools.
This event is supported by an Agricultural Soil Health grant from the Massachusetts Department of Agricultural Resources (MDAR) in partnership with American Farmland Trust.
Schedule/Agenda:
1:00pm – Lunch
2:30pm – Farm Tour
3:00pm – Soil Health Assessment Demonstration
4:00pm – Tarping Demonstration
6:00pm – Wrap Up & Thank You
Location:
Abundance Farm
253 Prospect St.
Northampton, MA 01060 
From the parking lot: Walk out of the parking lot and take a left down the sidewalk on Prospect St. You will see fruit trees and a driveway, turn left and walk towards the greenhouse and garden gate.
Google Map:
https://www.google.com/maps/place/Abundance+Farm/@42.329554,-72.6430435,17z/data=!3m1!4b1!4m5!3m4!1s0x89e6d715df58d189:0xb1f6093c4992b99b!8m2!3d42.329554!4d-72.6408495
For accessible parking:  257 Prospect St. Northampton, MA. Drive around the brick building and park by the greenhouse.
Registration Fee: 
NOFA members: $16, Non-members: $20
Full Scholarships available: Apply here 
About Abundance Farm:
Abundance Farm is a one-acre Jewish farm located in Northampton, MA, working to build a more resilient community through the integration of educational experiences, justice work, and regenerative agriculture. Abundance Farm was founded in 2013 and is a project of a synagogue, a school, and a town food pantry: Congregation B'nai Israel, Lander Grinspoon Academy and the Northampton Survival Center, respectively.
Informed by many ancient Jewish agriculture practices, Abundance Farm uses a raised-bed no-till system, integrating cover crops, mulch, intercropping, and other practices that work to sequester carbon back into the soil. In addition, they run a twice-weekly Pick-Your-Own program where people are invited to come to the fields and harvest food as they choose. After initial field conversion, they never use machinery, and the farm is truly community-powered, supported by young people and community members of all ages, notably the Shefa Teen program who will be helping to present at this NOFA event. (More info on Shefa Teens below.)
About the Instructors:
Rose Cherneff (all pronouns) serves as the Farm Manager for Abundance Farm. Rose started out in the farming world as a teenager working at The Food Project in Boston, MA. Since then, Rose has worked for a variety of educational and production farms throughout the Northeast doing everything from horse-powered cultivation to native perennial nursery work. Rose is interested in the ways in which farming and land-based relationships can help bring people together, and how connecting with each other can help us connect to the land.
Rebecca Leung (she/her) serves as a Farm Educator and Farmer for Abundance Farm. Rebecca facilitates classes for Lander Grinspoon Academy, Gan Keshet preschool, and ALMA Hebrew school, and co-facilitates the Shefa teen program with Rose.  Before coming to Abundance Farm, Rebecca worked on a variety of small to large scale sustainable production farms. Rebecca is a queer Toisanese/Chinese mixed race Jew interested in liberatory Jewish practices grounded in land and growing practices. 
Nili Simhai (she/her) serves as the Director of Outdoor Education for Abundance Farm. Nili served as the Director of Teva, a leading Jewish environmental education organization for fourteen years. A recipient of the Covenant Award for excellence in Jewish education, Nili has been recognized for her leadership in training and counseling hundreds of educators in the tenets of Jewish environmental education. One of her current passions is outdoor classrooms in Jewish institutions.
Ruben Parilla (he/him) works as the Soil Tech Coordinator for NOFA/Mass where he is responsible for implementing and performing field sampling protocols. He has 15 years of experience in the Environmental Laboratory industry and is currently pursuing microscopy certification through Dr. Elaine's™ Soil Food Web School. Ruben believes in the guiding principles of land stewardship and that we all share this responsibility. When he is not actively working the land, Ruben enjoys gathering forest medicine, fermentation and home gardening to name a few. Finalmente, Rubén es bilingüe y quiere saber de usted.
About Shefa Teens:
"Shefa" is Abundance Farm's teen program which takes place after school in the spring and fall, and runs during the summer as well. Shefa Teens help with every aspect of the Farm and bring very important energy and enthusiasm to our project.
More Information:
Portions of our farm tour will cover uneven terrain. We want to make sure your accessibility needs are met during the event. Please share with us your needs regarding (but not limited to): physical accessibility, allergies, noise, scent, gender, intellectual accessibility, and any instructions or tips to help you fully participate.
Masks are not currently required at this location.
Refund/Inclement Weather Policy:
For information on our refund and inclement weather policy, click here. 
Capacity:
Capacity for this event is limited to 30 people. Please remember to abide by current MA state guidelines for group gatherings and travel to minimize the transmission of COVID-19. Register ahead of time to secure your space!
Questions?
Contact Dora Miller, NOFA/Mass Educational Events Coordinator, at dora@nofamass.org or 857-265-0598
Sponsors
This event supported by an Agricultural Soil Health grant from the Massachusetts Department of Agricultural Resources (MDAR) in partnership with American Farmland Trust.


Share This Story, Choose Your Platform!