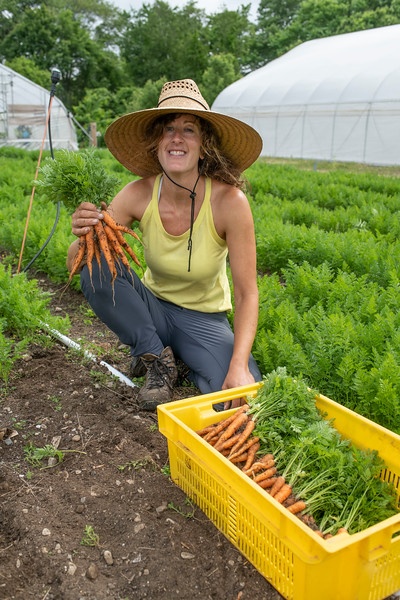 Interplanting and Plant Intensification
September 26, 2021 @ 10:00 am

-

3:00 pm

|

$15
Full Scholarships Available: Apply Here  
 
Have you been considering starting, or transitioning to, a no-till farm? Join us at Gaining Ground Farm in Concord, MA to learn small-scale, high-yield methods for crop production using methods that minimize soil disturbance and maximize soil health. We will discuss what we love and don't love about the tools we use: like planting with the paper pot transplanter, using the Johnny's tilther for bed prep, the BSC power harrow, the broadfork, our cultivation tools, and greens harvester. Farm manager Anna Kelchlin will lead an interactive field walk with observations and input from guest presenter Yoko Takemura of Assawaga Farm in Putnam, CT.  
Throughout the day we will:  
Learn about Gaining Ground Farm's use of interplanting and plant spacing  

 

Enjoy lunch on the farm and mingle with other farmers

 

Learn more about Assawaga Farm's intense vegetable production and field trials 

 

Participate in a hands-on 

demonstration of various no-till tools 

 

Learn several methods to assess soil health onsite with simple and inexpensive tools

 
About Gaining Ground Farm 
Gaining Ground Farm is a three-acre, organic, no-till farm that grows produce and flowers without the use of tractor-mounted implements entirely for hunger relief with help from volunteers of all ages and abilities, who work and learn in its fields. Now in their sixth year of no-till practices, they report that insects, disease and weed pressure are down, while yields and quality have significantly increased. They integrate cover crops into their no-till system with a particular focus on enhancing soil biology.  Gaining Ground has vibrant hedgerow communities and is planning to focus on incorporating more native plants into their fields. They are also home to five high tunnels and ten caterpillar tunnels, and use these to extend and expand the harvest season. 
This workshop is funded, in part, by NRCS 
The NOFA Conservation Innovation Grant Project (CIG), funded by the Natural Resources Conservation Service, is developing a learning community of northeast organic farmers who are integrating reduced and no-till methods on their farms, to refine and educate about organic tillage reduction methods. 
Agenda: 
10:00am – Field Walk and Interactive Tool Demonstrations  
11:30am – Presentation from Yoko Takemura    
12:30pm – Lunch 
2:00pm – Soil Health Indicators  
3:00pm – Wrap up and Mingle 
Hands-on activities will include some demonstrations of the technology the farmers are working with in collaboration with the NOFA/Mass CIG project to track practices, soil fertility, and crop quality.  
About the Instructors 
Anna Kelchlin (she/her) has been growing vegetables for the past ten years and is in her third year of growing in Concord, MA at Gaining Ground Farm. This is her first year managing a no-till farm. Anna has studied human services and Spanish and holds a master's degree in education with a focus on multicultural education and community arts. She has taught yoga for almost ten years and has led farmer-focused yoga workshops. She is also a heart transplant recipient and finds deep meaning in healing the land through growing food for others and nurturing connection between land and people. She loves the intimacy of farming with human power and is excited to increase diversity on the farm through interplanting, using cover crop mixes and natural mulches, as well as collaborative management. 
Yoko Takemura (she/her) owns and operates Assawaga Farm with her husband, Alex, in Putnam, CT. Assawaga Farm is in its fourth season and has been no-till since the beginning. The farm grows a diverse range of organic vegetables on three-quarters of an acre with one high tunnel (part propagation space). She and Alex are always experimenting with new methods of growing, and this season they dove into making on-farm compost as a main source of fertility for the farm. Yoko has spent much of her life living in various countries, moving before she can get to know a place really well. Now that she is rooted in one place, she finds it very exciting to learn and explore the vast world above and below ground on her small farm. 
Capacity for this event is limited to 30 people. Please remember to abide by current MA state guidelines for group gatherings and travel to minimize the transmission of COVID-19.  Masks are required for anyone who is not vaccinated for COVID-19 and for everyone when inside any building. Register ahead of time to secure your space! 
or  
Mail In This Registration Form 
More Info: 
For information on our refund and inclement weather policy, click here. 
Portions of our farm tour will cover uneven terrain.  We want to make sure your accessibility needs are met during the event. Please share with us your needs regarding (but not limited to): physical accessibility, allergies, noise, scent, gender, intellectual accessibility, and any instructions or tips to help you fully participate. 
Questions? Contact Doug Cook, Education Events Coordinator, at Doug@nofamass.org or 603-969-8195 
Share This Story, Choose Your Platform!