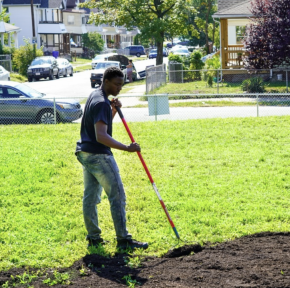 Bioremediation for Urban Soils
December 1, 2020 @ 7:00 pm

-

8:30 pm

|

free
Click HERE to register
Join us online for the second of two evening events where we will learn from soil experts about bioremediation and how we are using plants and soil biology to ameliorate contaminated soil. In collaboration with the Mass Dept. of Ag. Resources we are tracking the results of our bioremediation test plots in several urban farming locations in Springfield Mass. During this live interactive event we will hear from our project bioremediation consultant Nance Klehm and Ibrahim Ali of Gardening The Community in Springfield along with youth participants to learn about the methods being used in their trial plots.
If bioremediation using microbiology and plant partners is effective, such an approach can be beneficial by:
reducing costs by eliminating the need for expensive barriers and truckloads of loam
provide a deeper, more functional soil
Improving soil in the long run for growing crops, while breaking down toxic hydrocarbons and removing heavy metals to non-food-producing areas
Agenda:
7:00pm – Welcome and Introductions
7:10pm – Bioremediation Overview
7:30pm – Bioremediation in Process
8:00pm – Questions and Discussion
8:30pm – Wrap Up & Thank You
About the Presenters: 
Nance Klehm is a steward of the earth, an ecological systems designer, landscaper, horticultural consultant, and permaculture grower, as well as an in-demand consultant, speaker, and teacher. As the director of Social Ecologies, she works on soil restoration and remediation, long-term landscape planning, and community-focused regenerative soils and water systems in Chicago and around the world. Author of The Soil Keepers: Interviews with Practitioners on the Ground Beneath Our Feet.
Ibrahim Ali is the Co-Executive Director of Gardening the Community (GTC). He has played a key role in developing GTC into one of a growing handful of youth food justice organizations in Western Massachusetts. Ibrahim has been involved with youth-related programming for over 20 years, teaching and learning with youth at GTC for the last ten. Brother Ali shares that his adopted farming style represents his growth and understanding of hip hop, where sampling and remixing regenerative agriculture, pesticide-free farming, urban-specific farming, agroecology, and more, are freely shared, interpreted and experimented with.
Youth Presenters  from Home City Housing and Gardening the Community
Our Community Partners: 
Gardening The Community operates a training program created for youth from around the Mason Square neighborhood and beyond to grow fruits and vegetables on vacant and abandoned lots. Youth receive a stipend and are taught principles of urban sustainable living and urban agriculture. The food that is grown is sold at our Walnut Street Community Farm Store, the Mason Square Farmers Market, local restaurants, and bodegas (corner stores).  Youth also bring food home to their families. To encourage a more sustainable lifestyle, all produce is delivered to market and stores with the bikes and heavy duty bike trailers to reduce our carbon foot print, and build healthy lifestyle choices. Additionally, no pesticides or herbicides of any kind are used in the food we grow, and all work is done without any major farm equipment.
Home City Housing is a mission-driven developer of multi-family and mixed-use properties in the Springfield region.  They seek opportunities to acquire and develop properties that can enhance the lives of those who live and work in them, and those in the surrounding communities. HCH takes pride in the ways that they leverage their physical investment to  provide a more attractive and sustainable place to live and build the social infrastructure essential to community life.
With Support From: 

More Info:
For questions contact Doug Cook, Education Events Coordinator, at Doug@nofamass.org or 603-969-8195
Share This Story, Choose Your Platform!