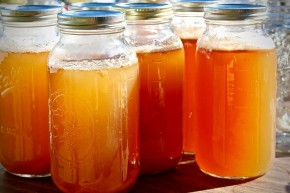 Making Korean Natural Farming Amendments
April 11, 2021 @ 9:00 am

-

5:00 pm

|

$95 – $120
Materials Fee: $15 (cash preferred)
Click Here for Scholarship Information
Are you looking to learn more about Korean Natural Farming amendments and start making your own?  Join us as we learn from Benjamin Morgan-Dillon how to use locally-sourced plants and fruits to create amendments and supplements that are tailored to our geographic environment. Korean Natural Farming retrains our focus from looking at what the plant needs now to anticipating what the plant is going to need in the coming weeks.  Using Korean Natural Farming techniques we will:
Harvest plants from the farm and learn to look for indicators of plant health.
Learn how to capture indigenous bacteria, fungi, and microarthropods.
Learn how to culture beneficial microorganisms and create the beginnings of super microbially infused compost.
Practice making amendments and leave with Fermented Plant Juice, Fermented Fruit Juice, Water Soluble Calcium and Water Soluble Phosphorus.
Learn how to use various forms of indigenous microorganisms to inoculate our soils and plants with the best of the best for this environment.
Attendees should plan to bring a large knife for chopping plants. The additional $15 materials fee will cover the cost of containers for the amendments and supplies for you to take home.
Workshop space is limited to 20 people. Please register ahead of time to secure your space!
*Please plan to bring your own lunch for this event.
Instructor:
Ben Morgan-Dillon of Acadia Farms, uses KNF techniques to produce eco-friendly cannabis-based products.  Ben is a cannabis & hemp consultant, and a leader in education on regenerative and sustainable agriculture.
Mail In This Registration Form
More Info
For information on our refund and inclement weather policy, click here.
Portions of our farm tour will cover uneven and steep terrain. We will be outside or in the barn, standing most of the day. Some seating will be provided, please bring your own if desired. We want to make sure your accessibility needs are met during the event. Please share with us your needs regarding (but not limited to): physical accessibility, allergies, noise, scent, gender; intellectual accessibility, and any instructions or tips to help you fully participate.
For questions contact Doug Cook, Education Events Coordinator, at [email protected] or (603) 969-8195.
Share This Story, Choose Your Platform!