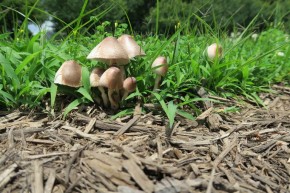 Intro to Mycoremediation
November 17, 2020 @ 7:00 pm

-

8:30 pm

|

Free
Click HERE to register
Join us online for the first of two evening events where we will learn from experts about bioremediation and how we are using plants and soil biology to ameliorate contaminated soil. During this live interactive event we will learn from Willie Crosby about how mycoremediation is an important tool for bioremediation of urban soils.
If bioremediation using microbiology and plant partners is effective, such an approach can be beneficial by:
reducing costs by eliminating the need for expensive barriers and truckloads of loam
provide a deeper, more functional soil
Improving soil in the long run for growing crops, while breaking down toxic hydrocarbons and removing heavy metals to non-food-producing areas
Agenda:
7:00pm – Welcome and Introductions
7:10pm – Mycoremediation presentation from Willie Crosby
8:00pm – Questions and Discussion
8:30pm – Wrap Up & Thank You
About the Presenter: 
Willie Crosby is the founder of Fungi Ally. He has seven years of experience as a professional mushroom grower and practices both indoor and outdoor cultivation. He has taught classes at Umass Amherst and Cornell and offers workshops about mushroom cultivation and consumption year-round.
Our Community Partners: 
Gardening The Community operates a training program created for youth from around the Mason Square neighborhood and beyond to grow fruits and vegetables on vacant and abandoned lots. Youth receive a stipend and are taught principles of urban sustainable living and urban agriculture. The food that is grown is sold at our Walnut Street Community Farm Store, the Mason Square Farmers Market, local restaurants, and bodegas (corner stores).  Youth also bring food home to their families. To encourage a more sustainable lifestyle, all produce is delivered to market and stores with the bikes and heavy duty bike trailers to reduce our carbon foot print, and build healthy lifestyle choices. Additionally, no pesticides or herbicides of any kind are used in the food we grow, and all work is done without any major farm equipment.
Home City Housing is a mission-driven developer of multi-family and mixed-use properties in the Springfield region.  They seek opportunities to acquire and develop properties that can enhance the lives of those who live and work in them, and those in the surrounding communities. HCH takes pride in the ways that they leverage their physical investment to  provide a more attractive and sustainable place to live and build the social infrastructure essential to community life.
With Support From.

More Info:
For questions contact Doug Cook, Education Events Coordinator, at Doug@nofamass.org or 603-969-8195
Share This Story, Choose Your Platform!