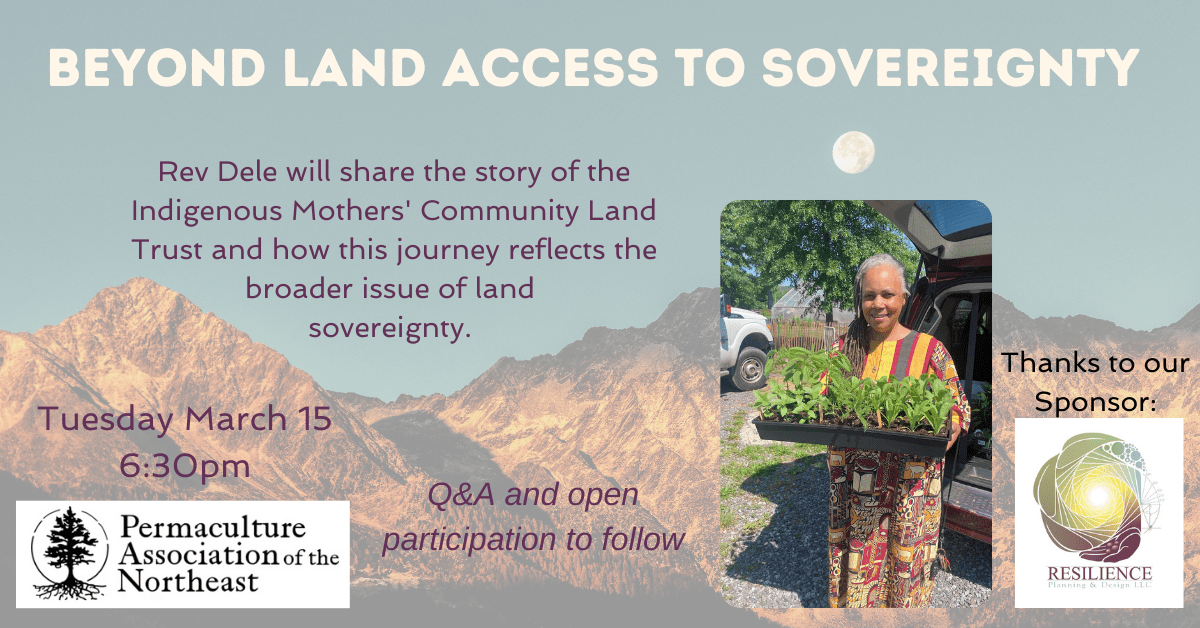 Permaculture Association of the Northeast: From Access to Sovereignty: Conversations about Equitable Land Use
March 15 @ 6:30 pm

-

7:30 pm

|

$10 – $50
The practice of Permaculture requires permanent access to land. Our speaker, Rev Dele of Soil & Souls will share the story of the Indigenous Mothers' Community Land Trust and how this journey reflects the broader issue of land sovereignty. She'll explore why this work is necessary and the various roles we may play.
Most people don't understand the legal importance of being connected to land and we're moving into a situation where more people are becoming homeless. She'll also explore some communal approaches in addressing that. This webinar addresses how we can better live up to our core ethic of fair share.
For the second half of this session, we are planning a participatory discussion. A recent thread on the Northeast Permaculture Listserv, entitled "A message from 10+ Indigenous leaders: Regenerative Agriculture & Permaculture offer narrow solutions to the climate crisis," is generating a lot of discussion. This will be an opportunity to continue the conversation. Our intention is to create a safe and respectful space to have a productive exchange and to learn together. Please join us.
REGISTER NOW
PAN Members
Login to your PAN account and go to the "MembersOnly" tab. Fill in the short registration form.
Not a PAN member?
Please make a payment.

You can make a contribution to support this event. Use the "PAY NOW" button below.
Or, you can become a member for $30/$50/$100 a year and get free access to our webinars and all past recordings as part of your membership.

Fill in this registration form.
PAN runs on a small budget, and your membership or contribution helps to pay for coordination, administration, additional programming, and other PAN activities. We truly appreciate your support.
Share This Story, Choose Your Platform!