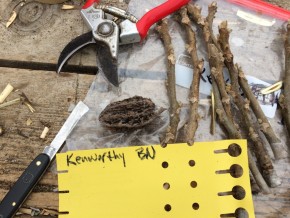 Propagating Nut Trees and Woody Perennial Fruit: CANCELED
March 27 @ 10:00 am

-

4:00 pm
This event has been CANCELED
This class is designed for people with some plant growing and/or propagation experience.  Farmers wishing to diversify their farm to include tree crops are specifically encouraged to attend this program. Please come prepared to take notes. A bibliography will be provided as a resource for your ongoing research and reference.
Description:
Join NOFA/Mass at Big River Chestnuts in Sunderland, MA with Buzz Ferver from Perfect Circle Farm for a nutty day focused on how to propagate nut trees (and more) for your farm and homestead. Buzz is a lifelong grower with many years experience in woody plant propagation. Our host Jono Neiger is welcoming NOFA/Mass to his farm where, since 2018, he has developed a diversified  agroforestry system with blight-resistant chinese chestnuts, heartnuts, elderberries, aronia, and other crops.
Growing nut trees from seed is the lowest-cost method to get high quality and productive trees for your own farm and landscape. In the morning we will:
Examine seeds in person (Hazels, Hickories, Oaks, Chestnuts, Black Walnuts, Butternuts, Heartnuts, etc) and crack them to determine which nuts are superior to others and why.
Learn how to protect and store nuts during the winter.
Learn how to plant and grow nut trees from seed in spring.
Discuss seedbed preparations, planting, organic weed control strategies, appropriate containers, media and container growing.
Discuss the winter storage and treatment of various species, plus more.
Questions and Answers
Noon- Potluck Lunch*
In the afternoon, we will focus on clonal production and:
Discuss grafting, budding, layering and taking cuttings of various species.
Observe budding and grafting techniques with guided practice.
Grafting knives will be available for purchase, or you are welcome to bring your own.  The optional materials fee covers the cost of three pairs of scions and rootstock for those who would like to leave with their own grafted trees. Buzz will be supplying a variety of apple and chestnut scions to then be grafted onto hardy hybrid rootstocks. Following our grafting practice we will be guided on a tour of the farm by Jono Neiger to learn more about the alley cropping systems and rotational grazing chickens.
*Lunch for this event is potluck-style. Participants are expected to bring a food item to contribute, their own utensils and a list of ingredients to accommodate those with food sensitivities.
Instructor:
Buzz Ferver spends his life building soils, making less waste at all scales and learning about meeting human needs at farmstead scale. Buzz owns and operates Perfect Circle Farm in Berlin Corners, VT, where he is broadly using permaculture principles to help guide the farms development and propagate a wide variety of hardy edible plants.
Share This Story, Choose Your Platform!