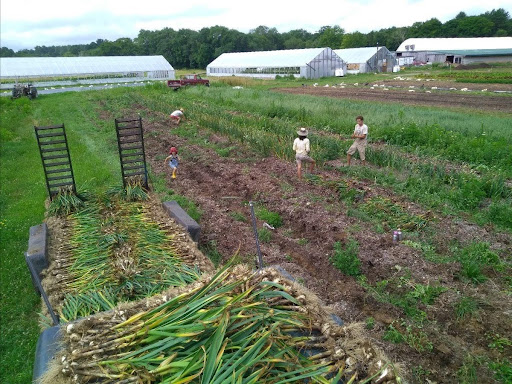 Compaction Mitigation with No-Till Practices
October 10, 2021 @ 1:00 pm

-

4:00 pm

|

$15
Join us at Freedom Food Farm in Raynham, MA to learn from farm manager Chuck Currie and guest presenter Maggie Payne, from NRCS, about the role that minimum tillage and cover crops have on farm soil compaction mitigation. Chuck will give us a tour of his farm where he uses holistic and biodynamic farming principles to raise livestock, grow grain and vegetables for their CSA and farmers market. Chuck will also give a demonstration of their silage chopper and forage wagon that they are using for their transferred mulch system. Maggie and Chuck will discuss various practices and their effect on compaction. 
Throughout the day we will: 
Learn about Freedom Food Farm's various tillage reduction strategies

Discuss the effects of soil compaction and mitigation techniques 

See a demonstration of a silage chopper and forage wagon being used for transferred mulch

Learn about soil health indicators you can measure with simple and low-cost tools on your own farm
Event Agenda:
1:00pm – Farm Tour
2:30pm – Equipment Demo
3:00pm – Soil Health Assessment Demonstration
3:30pm – Questions & Answers
4:00pm – Wrap Up & Thank You
About Freedom Food Farm:
Freedom Food Farm is a certified organic farm on 88 acres in Raynham, MA. Started in 2012, the farm staff focus on growing a sustainable, full diet for community members year-round. The farm is operated by a small team of dedicated farmers that grow and produce food throughout the year.
About the Project:
The NOFA Conservation Innovation Grant Project, funded by the Natural Resources Conservation Service (NRCS), is developing a learning community of northeast organic farmers who are integrating reduced and no-till methods on their farms to refine and educate about organic tillage reduction methods. As well as, the Agricultural Soil Health grant from the Massachusetts Department of Agricultural Resources (MDAR) in partnership with American Farmland Trust.
About the Instructors:
Chuck Currie manages Freedom Food Farm's grain & compost production as well as the livestock. He has farmed for over 15 years and has taught many workshops on organic, regenerative farming in New England.
Chuck studied biochemistry and chemistry for two years at UMass Amherst before taking a sustainable agriculture course, visiting a small farm run by someone not much older than him, and instantly realizing he had wanted to be a farmer his entire life. After receiving a B.S. in Plant, Soil, and Insect Science in 2005, he worked at Red Fire Farm in Granby, MA for three years before starting his own farm in Vermont. After four years farming in Vermont, Chuck moved back to Southeastern Massachusetts with the goal of providing equal access to good food in more urban communities, and to be closer to family and friends. He started Freedom Food Farm in 2012 on leased land in Johnston, RI and began leasing the farm in Raynham, MA in 2014.
Maggie Payne is the State Soil Scientist for Massachusetts USDA Natural Resources Conservation Service (NRCS). After graduating from the University of Rhode Island with a M.S. in Environmental Science, she has worked as a soil scientist and soil conservationist for NRCS in Massachusetts and Rhode Island for 15 years. Maggie's work has involved mapping and study of coastal soils and habitats, terrestrial soil carbon sequestration, wetland restoration, and on-farm soil health practices.
Capacity for this event is limited to 10 people. Please remember to abide by current MA state guidelines for group gatherings and travel to minimize COVID-19 transmission. Register ahead of time to secure your space!
Notice: We will be offering a follow-up online event on October 25, 2021 from 6:00-7:30pm for those who are unable to attend this event in person. We will be video documenting the in-person event and may ask for your permission to be included in the video that will be posted publicly.
Mail in this registration form
More Info:
For information on our refund and inclement weather policy, click here. 
Portions of our farm tour will cover uneven terrain.  We want to make sure your accessibility needs are met during the event. Please share with us your needs regarding (but not limited to): physical accessibility, allergies, noise, scent, gender, intellectual accessibility, and any instructions or tips to help you fully participate.
Questions? Contact Sister Dora Miller, Education Events Coordinator, at dora@nofamass.org
Share This Story, Choose Your Platform!