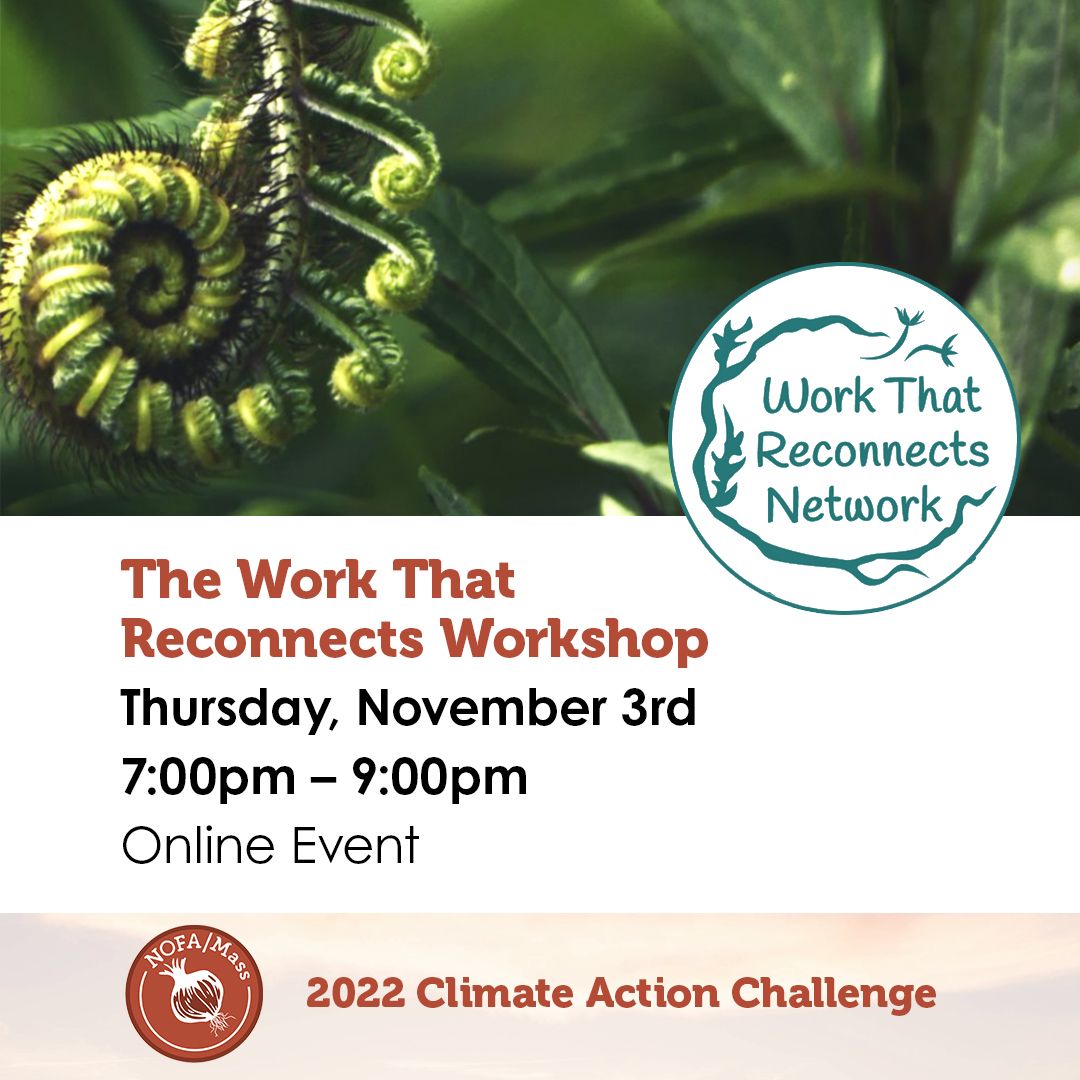 Work That Reconnects – NOFA/Mass Climate Action Challenge
November 3, 2022 @ 7:00 pm

-

9:00 pm

|

Free
Thursday, November 3, 2022
7:00-9:00pm
Online – Free to attend.
This workshop is offered by donation, with no one turned away for lack of funds.
Register here.
The Work That Reconnects offers a larger story that puts our times into perspective. It supports us in honoring all our emotions, including the painful ones, and challenges us to act. It guides us through a transformational process informed by mythic journeys, modern psychology, spirituality, and holistic science. This process equips us with tools to face the crises of our time and become more nourished, energized, empowered, and inspired to act for life on Earth.
The above description of the Work was provided by Anne Goodwin, Boston-based activist with Mothers Out Front and experienced Work That Reconnects facilitator. She and Karina Lutz, a regenerative farmer, longtime RI climate activist and Work That Reconnects facilitator now based in Western Mass, will offer an introduction to the Work that Reconnects for the NOFA/Mass community.
Join us for this participatory 2-hour online workshop on the Work That Reconnects on Thursday, November 3rd, 7:00-9:00pm.
Agenda:
This workshop will follow the "Work That Reconnects" method developed by Joanna Macy, Molly Young Brown, Constance Washburn, and colleagues:
Starting with gratitude for living in Earth and all who are working for justice, healing, and regeneration, we'll move into honoring our pain for the state of the world, then look at the world through a holistic, life-affirming paradigm, and finally end with an exercise to help us go forth into the world with renewed passion, clarity, and a sense of community with all life.
About the Instructors:
Karina Lutz (she/her) is a workshop leader and poet. She was founding board chair and then Deputy Director of People's Power & Light. Now called Green Energy Consumers' Alliance, its mission is to make energy affordable and environmentally sustainable in RI and Massachusetts. She was instrumental in passage of sustainable energy legislation in Rhode Island and in thwarting a proposed megaport in Narragansett Bay. She offers Work That Reconnects workshops in the Connecticut River and Narragansett Bay watersheds (New England).
Anne Goodwin (she/her) is a Boston based activist, musician and artist. She has worked directly with Joanna Macy and has led many workshops in the Work That Reconnects for churches, activist groups, and others around New England. She particularly delights in incorporating songs, visual art, and movement into her facilitation. She works as a grassroots organizer with Mothers Out Front, a national climate action movement.
About the Framework:
Learn more about the process at www.workthatreconnects.org and www.joannamacy.net and about SpiralEcology here at karinalutz.wordpress.com/spiralecology-workshops/
Questions?
Contact Marty Dagoberto, NOFA/Mass Policy Director, at marty@nofamass.org
Register here.
Share This Story, Choose Your Platform!