35th Annual Winter Conference, January 15-16th 2022. A hybrid event.
Most Recent Podcast
A podcast all about organic farming, sustainability and food systems for everyone who cares about food, where it comes from and how it's grown. We dive into both beginner and advanced topics, interview amazing guests and explore how traditional growing methods and current trends intersect.
Featured Program
Massachusetts Pollinator Network
Pollinator protection communities from the seacoast to the Berkshires are collaborating with NOFA/Mass to build a state-wide hub for native pollinator protection.
Together, we will protect and expand pollinator habitats and reduce the use of biocides in landscapes across the Commonwealth!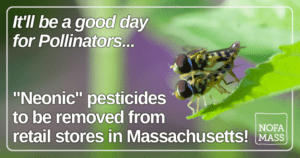 Policy Updates
By Marty Dagoberto
NOFA Mass
Mosquito season comes back with the warmth, and even though spraying of pesticides to control adult mosquitoes is the least effective and most environmentally damaging method to control mosquito diseases, we're about to be [...]
NOFA Mass
NOFA/Mass envisions a commonwealth of people working together to create healthy landscapes that feed our communities and restore our environment. The use of toxic and persistent chemicals on landscapes, be they schools, playgrounds, municipal [...]
NOFA Mass
Protecting Mass. Pollinators Action Resource Guide, curated by NOFA/Mass. The good folks at Dean's Beans Organic Coffee asked us "What are some different ways that people in Massachusetts can help the pollinators?" That set us off on [...]
Thanks to Our Annual Sponsors