35th Annual Winter Conference, January 15-16th 2022. An online event.
Most Recent Podcast
A podcast all about organic farming, sustainability and food systems for everyone who cares about food, where it comes from and how it's grown. We dive into both beginner and advanced topics, interview amazing guests and explore how traditional growing methods and current trends intersect.
Featured Program
NOFA Bulk Order – Open thru Jan 31st
Do you buy cover crop seed, fertilizers, mineral amendments, compost, potting soil, potato and allium seed? Would you like to save money on those items? If so, the bulk order might be perfect for you. Prior to the spring growing season, NOFA/Mass organizes a bulk order with popular suppliers, for distribution at sites around MA/CT/RI. Take advantage of significant savings through group purchasing power and collective shipping, while helping NOFA support organic practices throughout the region.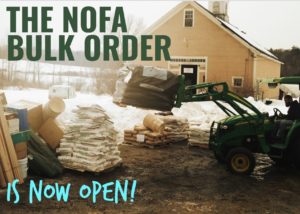 Policy Updates
By Marty Dagoberto
Marty Dagoberto
By Marty Dagoberto, NOFA/Mass Policy Director Our April Policy Newsletter is still in effect - please keep calling for legislators to ask them to cosponsor our priority bills.  We were successful in securing the [...]
NOFA Mass
On July 29th, 2020, with the support of our Coalition, our Healthy Soils Champion in the Senate, Senator Jo Comerford, was successful in advocating for the text of the Healthy Soils Bill to be included as an [...]
Thanks to Our Annual Sponsors