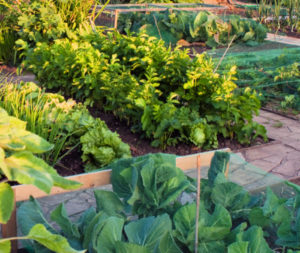 By Richard Robinson, Farmer at Hopestill Farm  
A garden plot should be "big enough to be interesting, but not so big it becomes a burden," according to Mark Hanson, who helps run a community garden in Concord, MA. Mark has found that one way the gardeners he works with can reduce the burden is by banding together to order supplies through the NOFA Tri-State bulk order. 
That same sentiment is echoed by Anna Gilbert-Muhammad, who consults and helps organize numerous community gardens in Springfield, MA. "The Bulk Order is a great tool for community gardeners to get the greatest yield out of their gardens. It's a one-stop shop." 
Mark oversees the community garden at Conantum, a planned community with abundant open space. "I am not the manager, exactly, but I have been the person to blame for the past 20 years," he says. Soil building has been a major focus. "The bulk order has been fantastic for our efforts, because we have been able to get organic soil amendments and cover crops, and descriptions of what they do and how to use them," a useful complement to books like The New Organic Grower by Eliot Coleman.  
Mark sends the bulk order catalog out as a .pdf to community garden members, and then they meet for a potluck to talk about it. He keeps a spreadsheet with each member name and each item they want, and then collates them all to make a single order. Many gardeners with smaller plots can't use a large bag of an amendment by themselves, but by consolidating smaller orders, they can order a larger bag and save money. At the garden, the group has a shed for storing and distributing their shared materials. Pro-Gro is one of the most popular items at Conantum, because it takes some of the confusion out of the amendment process.  
Mark has taken notice of the new combination soil test analysis and bulk order discount offered by NOFA/Mass, which can help take much of the puzzlement out of your soil test results and point you toward the right amendments for your garden. "That's pretty attractive, and it's time for us to do that," he says.  
"We recommend a soil test at least at the start," Anna says, "especially in urban soils, to determine lead levels." The gardeners she works with especially love the cover crop seed mixes and Vermont Compost's compost that is available through the Bulk Order. 
"Start planning now, and the bulk order can help you save money and increase your garden yields," she says.