By Jason Valcourt, NOFA/Mass Conference Coordinator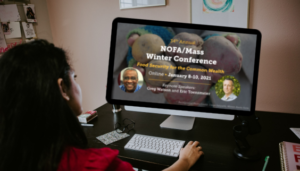 Our first virtual NOFA/Mass Winter Conference was a great success and an amazing learning experience. Thank you to all who attended and supported the 34th annual event. Even though we were virtual, the community connection of NOFA conferences shone through, with active discussions and conversations both in the chat and "face to face".
The virtual event was a solid replacement for an in-person gathering and provided a dose of the NOFA community we all needed at this time. The weekend–long event was immersive from Friday evening to Sunday afternoon as a livestream via Zoom, and made for an inspiring winter session centering on Food Security for the Common Wealth.
Our keynotes from Greg Watson and Eric Toensmeier, along with 30+ experienced presenters, delivered a catalog of food and farming tips for gardeners of all levels, food lovers, farmers seeking to further their education on soil health, and no-till methods and activists working to improve the food system.
Many determined participants took home amazing products from the conference silent auction, including a CoolBot unit, highly coveted Soil Food Web courses by Elaine Ingham, farm-raised oysters and much more.
If you weren't able to make it to the live event, you can still purchase access to the conference video recordings, available as private playlists on our YouTube channel. Videos will be available for viewing, once purchased, indefinitely. You can purchase the conference recordings here through 2/15/21.