By Anna Gilbert-Muhammad, NOFA/Mass Food Access Coordinator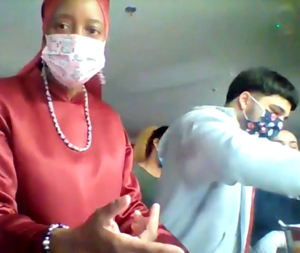 On Saturday January 9, 2021, youth leaders from Home City Housing in Springfield, MA started the new year giving instruction on hot water bath canning at the 2021 virtual NOFA/Mass Winter Conference. Youth leaders had learned about food preservation themselves during the growing season, and shared their new skills with conference participants. Making salsa in the garden and then preserving it was a big hit for the youth garden team.
Along with me, Agnes Arias, Anthony Escalera, Ariel Arroyo and Brian Medina instructed at the Winter Conference session. Brian, the lead youth instructor for the virtual canning demonstration, enjoyed sharing his enthusiasm for the process and for making salsa itself. He called the appearance of the salsa, "a beautiful sunset" and added that it smelled wonderful.
Some of the workshop participants mentioned in the Zoom chat that they could really smell the salsa right along with Brian. When asked how he felt about being the lead instructor for the demonstration, Brian said, "It was fun to show people how to make salsa. It was great to share this!!".
Anthony Escalera, who was behind the Zoom controls and filming some of the Facebook live portion of the demonstration, was able to have a few moments to showcase the video he put together for a late summer demonstration at Woven Roots Farm. (Jen Salinetti, Co-Founder/Owner of Woven Roots Farm and NOFA/Mass Board Member, was one of the instructors for that demonstration.) Anthony was also asked about his budding photography and videography business during the Winter Conference session.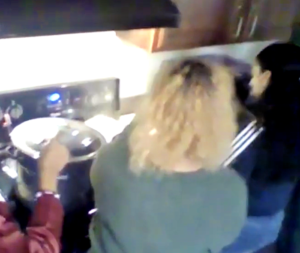 Towards the end of the demonstration, the youth leaders were asked what cooking demonstrations and foods they liked the most. Zucchini bread and salsa were the favorite foods for Brian, Anthony, Ariel and Agnes; however, it was the salsa making classes that got the vote for favorite class.
Brian mentioned in his closing words of the workshop that he is looking forward to the garden again this coming year, and possibly selling some of the salsa that the youth leaders create. The garden at Tapley Court Apartments will begin in March 2021. Please visit our webpage if you would like more information on this garden project. If you would like to donate to this garden/Food Access Program, please visit https://www.nofamass.org/donate/.
For further questions, contact Anna Gilbert-Muhammad, NOFA/Mass's Food Access Coordinator at [email protected]nofamass.org.