By Jocelyn Langer, NOFA/Mass Executive Director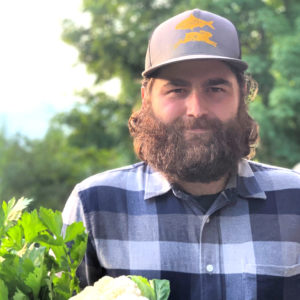 Mike Rice, our new Development Director at NOFA/Mass, joins our leadership team with an already strong track record of raising funds for the organization. Over the past year in his role as Marketing Director, Mike has consistently exceeded sponsorship and fundraising goals, despite starting the position during a year of economic crisis. Now in his new role, Mike takes on the full spectrum of development tasks, continuing to take the lead on sponsorships, advertising, and fundraising events, while also writing grants and assisting the Executive Director with donor outreach.
In addition to his past contributions within NOFA/Mass, Mike brings a range of experience in food and agriculture. Mike's past work includes time spent on two Vermont farms focused on wine/cidermaking and cheesemaking, as well as several years managing wine and beverage programs for Michelin–starred and James Beard Award winning restaurants in the Hudson Valley and NYC. More recently, Mike graduated from Vermont Law School with a Master's of Food and Agriculture Law and Policy. During his time there, he worked as a Research Assistant with the Center for Agriculture and Food Systems.
As a resident of Vermont, Mike's involvement with NOFA/Mass has been mostly from a distance, even pre-pandemic. Mike says at home in Southern Vermont he has "a big, unruly vegetable garden, a flock of five hens, and dreams of a future orchard and vineyard." Fortunately his garden and poultry leave room for full-time work with NOFA, and we hope he'll continue to find time for us if his dreams of fruit materialize!
In the coming year at NOFA/Mass, Mike looks forward to balancing all of the various methods of bringing funding to the organization, as well as learning more about all of the great programs and ideas that need funding. He is particularly excited for more robust collaboration between the NOFA state chapters to fund ambitious regional projects focused on soil health, food access, farmer-to-farmer information sharing, and more.
When our previous Development Director, Suzy Konecky, stepped down last fall, we lost a talented member of our team, and a wonderful colleague. In hiring her replacement, we knew it would be hard to find candidates with the fundraising experience, strong writing ability, and organic farming know-how that Suzy brought to the position. As it turned out, we were fortunate to have several strong and well-balanced candidates, including Mike. Going forward, NOFA/Mass will continue to benefit from a Development Director who both understands our organization and is able to navigate the world of grants and fundraising with confidence. When I informed Mike during the 2021 budgeting process that I had to increase our revenue expectations for the Winter Conference auction, Mike's response was, "Sure, just tell me what the goal is and I'll meet it." As it turned out, the auction more than doubled our budgeted goal, kicking off a strong start to our fundraising efforts in 2021!