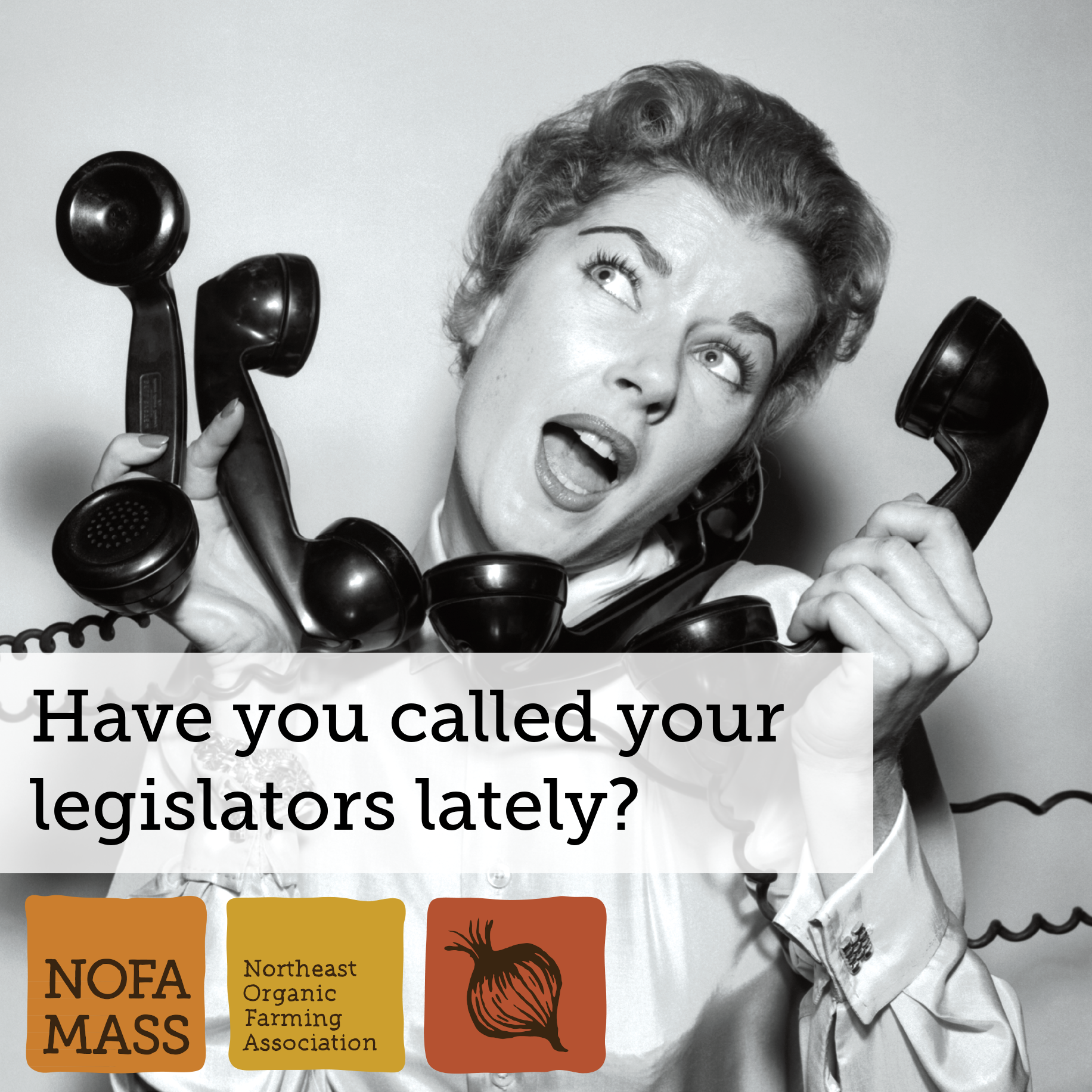 By Marty Dagoberto, NOFA/Mass Policy Director
Now is the time: we need all NOFA/Mass members and supporters to contact their state legislators to ask them to cosponsor our legislative priorities for the 2021-22 legislative session. The House is just starting the budget process and we also have 2 priorities we need help drawing their attention to. Will you please call your legislators this week?
UPDATE: See our current action alerts on our main policy page, here. 
Don't want to call? Only have 2 minutes? No worries – here's a form you can use to send a pre-populated message within seconds. Please note: Phone calls have a 100X greater impact than emails, especially form emails (more like 1000X). 
As a direct result of thousands of phone calls and emails from constituents and well-attended public hearings last session, legislators advanced several NOFA/Mass priorities. They passed the Healthy Soils Bill and the Environment & Agriculture Committee approved several pesticide-related bills. With this new session in full swing, we need to keep building momentum toward an organic future – and to do that, we need your help!
Under new rules adopted this session, legislators can cosponsor a bill until it is reported to its first committee (a process which likely starts in May). In theory, legislators take their cues from their constituents*. The more they hear about a specific bill/issue, the more likely they are to add their name in support of legislation. The more cosponsors a bill receives, the more momentum it is perceived to have, the more likely chance it has of making it through the labyrinth!
*We realize that the chemical corporations and their surrogates have inordinate influence over the legislative and regulatory bodies governing them. This is why we must speak loudly, often and together and make it a political liability for decision-makers to do their bidding!
You'll find the full listing of our current legislative priorities on our policy page.
You can also watch and share with legislators this 5 minute video-greeting and review of our priorities from our Policy Director (April 6, 2021).
You'll find an "FAQ" with information on how to contact legislators on our policy page.
You have one state representative and one state senator. You should call both of their offices and ask them to endorse whichever bills on our priority list interest you.
It's simple! You'll likely be leaving a voicemail or might talk to staffer with the office. Be sure to include your name, home town and personal reasons for supporting whichever bills you're calling about. Be sure to make the "ask," – "Please cosponsor these bills."
As of April 7, 2021, the House is working on the state budget. Please also ask your state representative (not your Senator – they won't be working on the budget until May) to support our budget priorities:
"Rep. Schmid's Healthy Soils Program Budget Amendment (Line item 2000-0101)" (click for full details)
"Rep. Gentile's Glyphosate Study (2511-0100)" – as of writing, this amendment is still being drafted. It will commission a literature review in a similar way as the neonic study which recently resulted in a consumer ban of those pesticides.
Thank you for using your voice to speak for an organic future. Democracy can only work if we work it!
Did you see? The NOFA/Mass Policy Department is expanding!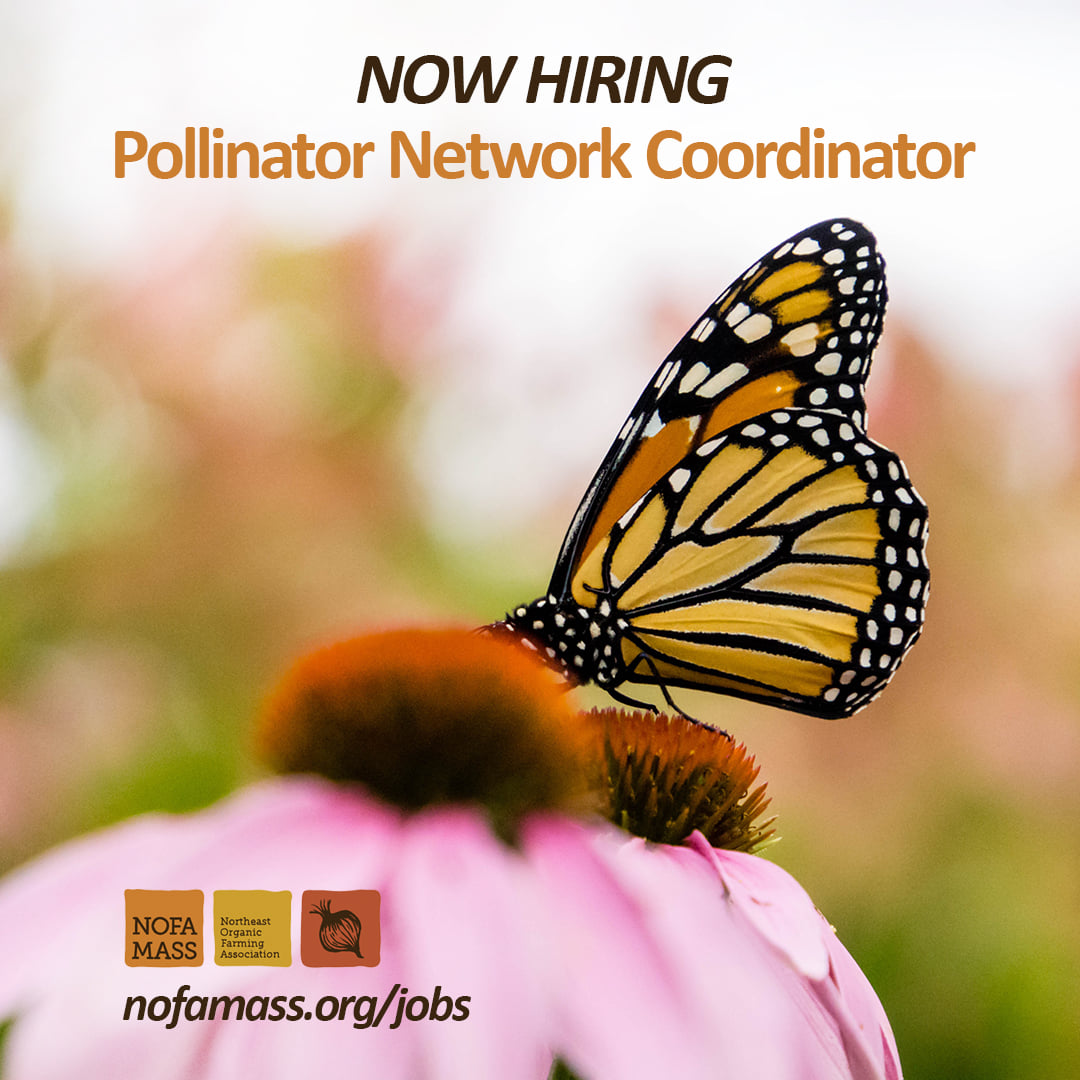 NOW HIRING
Are you passionate about native pollinators? Does organizing educational events around protecting them and their habitat give you a warm and fuzzy feeling? Want to be part of a statewide movement?
We are looking for a self-motivated person to join our efforts to protect and expand pollinator habitats and reduce the use of biocides in landscapes across the Commonwealth.
Applications due by April 12, 2021.