MA Legislative Recap: Progress toward Ecological Integrity and Justice
By Marty Dagoberto, NOFA/Mass Policy Director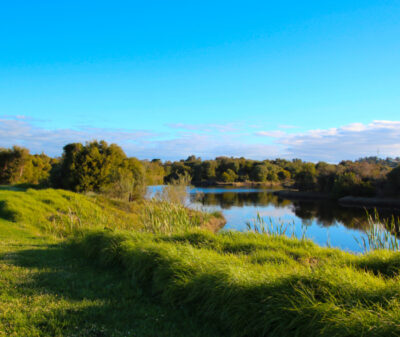 The 2021-22 Massachusetts formal legislative session ended over the summer. While many of our priority policies will need to be reintroduced, we'll start the next session with a broader coalition of allies and the momentum of several important mile markers reached toward critical reforms for ecological integrity and justice.
We celebrate the passage of an historic climate bill, signed by Governor Baker on August 11th, 2022. The law focuses on expanding renewable energy, decarbonizing the transportation sector and prohibiting biomass from being considered renewable. A particular provision that our Mass Pollinator Network successfully advocated for was the reinstatement of the Pollinator-Friendly Solar Incentive Program, which provides solar developers an incentive to install and maintain certified pollinator-friendly habitat on solar fields. We are grateful to Senator Comerford and Senator Creem for making this a priority issue and we thank our Mass Pollinator Network for taking time to make calls and write letters over these last months!
The MA Food System Collaborative led a successful campaign to include several important provisions in the 2023 state budget. In addition to increased funding for HIP, a provision for investment in UMass Extension was a top budget priority for NOFA/Mass, which we are grateful to see included. UMass Extension, which provides essential education and technical assistance to farmers, received $620,000 to upgrade their soil testing equipment and to hire new educators focused on issues such as soil health, urban agriculture, pollinators, and addressing invasive pests while reducing the use of pesticides.
As far as intermediate victories go, several significant pesticide reform measures were approved (reported favorably) by the Joint Committee on Environment, Natural Resources and Agriculture during the 2021-22 session, as well as measures regarding Food Justice and Equity in Agriculture. We are grateful to Senate Chair Rebecca Rausch and Acting House Chair Mindy Domb for hearing our comments and testimony and advancing several important measures.
Several proposals supported by the grassroots now have increased political momentum to build upon next session, including:
Of particular note, our priority measure to modernize pesticide reporting (H.4931) was actually passed by the entire House of Representatives and sent to the Senate in June. This measure would digitize annual reporting of pesticides use (which currently exists as paper forms in some back office…) so that we have a more accurate view of current pesticides use across our Commonwealth.
Our legislative campaigns can, and have, influenced policy even without final passage of a bill. This past July we saw the result of years of a legislative campaign which, while unsuccessful at enacting a law, resulted in the adoption of a regulatory policy banning consumer use of neonicotinoid pesticides. Similarly, as the result of a budget appropriation we advocated for, the Dept. of Agricultural Resources (MDAR) is currently undergoing an in-depth review of the environmental and health impacts of glyphosate. The more allies we have in the legislature, the greater our collective power to protect our communities and ecosystems through the regulatory process, even when bills don't make it through the "legislative labyrinth". Increased literacy of such issues as "chemical trespass" are intermediate victories worth celebrating and mark progress we will continue to leverage toward real world impacts. 
As another direct result of increasing calls for pesticide reform, MDAR has convened an official Conservationist Pesticide Advisory Council to advise the Pesticide Board on the development of statewide pesticide policies and regulations. Until recently, only the pesticide industry had an advisory council which advised the Board. Our calls for reform of pesticide rules through the regulatory process will be heard even louder moving forward.
Over the coming weeks our policy team will be meeting with coalition allies and legislative champions to chart our next steps for the 2023-24 legislative session as well as how we will engage the Pesticide Board. We'll build upon greater awareness of the issues, an expanded coalition of support and an elevated platform in the regulatory process. 
We'll keep our members updated as action opportunities arise in the new session (January). In the meantime, we encourage you to contact your State Senator to keep these issues on their radar and ask for their help in further advancing pesticide and food justice reforms as soon as they can.
Good News for Climate Action (federal climate bill, the IRA)
On August 16th, President Biden signed into law the "biggest climate bill that any country has ever passed," billed as the Inflation Reduction Act (IRA). While the law includes some devastating handouts to well-entrenched fossil fuel companies (thanks to the coal baron, Sen. Joe Manchin) it's very much a net positive and establishes a potential path toward carbon neutrality by 2050. (Here's an infotaining video breakdown of the law from Hank Green.) As explained by our allies at IATP, next steps will determine the real impacts of the IRA and we'll call for further executive action on climate by the President to provide more aggressive "sticks" to accompany the "compromise carrot" that is the IRA.
The IRA will have a significant impact on organic and regenerative agriculture by investing $20 billion for agricultural conservation programs that would build resilience and reduce agricultural emissions. Here's a very helpful breakdown of "the good, the bad and the ugly" on "How the Inflation Reduction Act Affects Food and Agriculture." It'll be up to us and the broader advocacy community to work with our members of Congress to help shape how these conservation programs roll out. 
Good News for Food Security (HIP)
The Baker-Polito Administration announced on August 9th the enrollment of more than 100 new HIP (Healthy Incentives Program) farm vendors. "This includes serving areas where food insecurity and rates of chronic disease have historically been disproportionately high, serving areas designated as food deserts or low-access areas, and demonstrating an ability to reach SNAP clients with disabilities and/or Black SNAP clients, who have historically accessed fewer HIP locations compared to other client populations," explained a press release from the Governor's office. We are again grateful for the ongoing coalition organizing of the MA Food System Collaborative for this victory for local farmers and food insecure communities.
Good News for Organic Agriculture (USDA transition program)
Via our national partners at the National Organic Coalition – On August 22, 2022, "Agriculture Secretary Tom Vilsack announced the details of a $300 million investment to support organic and transitioning farmers, and to address targeted organic market challenges. The Organic Transition Initiative is consistent with many recommendations made to USDA by the National Organic Coalition (NOC) to increase support for organic agriculture to help build a more ecologically sound, resilient, and climate-friendly food and farm system." Read the full press release, here.