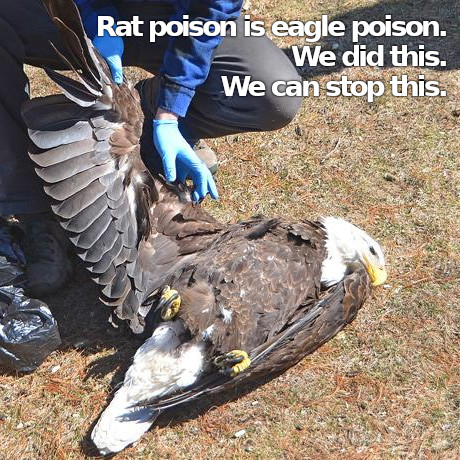 By Marty Dagoberto, NOFA/Mass Policy Director
Our April Policy Newsletter is still in effect – please keep calling for legislators to ask them to cosponsor our priority bills. 
We were successful in securing the inclusion of the Healthy Soils amendment and the glyphosate amendment in the House Budget, which we mentioned last month –  stay tuned for next steps on those pieces!
We have breaking news about a new bill filed in response to a recent tragedy…
A female bald eagle found dead in her nest on the Charles River in March suffered a fatal hemorrhage after consuming smaller animals who had themselves consumed rat poison, as confirmed recently by MassWildlife officials. This is the first confirmed case of such poisoning in Massachusetts and evokes a clarion call to rein in pesticides use in our Commonwealth.
NOFA/Mass is partnering with several other nature-defending organizations to cosponsor late-file legislation, sponsored by Representative Jim Hawkins, to decrease the use of rat poisons in the state, promote integrated pest management (IPM) and modernize pesticide use tracking. 
Please read on to learn more and contact your legislators to cosponsor HD.4206, "An Act relative to pesticides." —> Click here to contact legislators within seconds.
According to information presented by Raptors Are the Solution (RATS): 
Of the 161 dead raptors submitted to and tested at Tufts Wildlife Clinic in a study between 2006 and 2010, 86% had poison residues in their liver tissues.

For an additional 94 Massachusetts raptors necropsied from 2012 through 2017 at Tufts, 96% had detectable poisons

9 Snowy Owls died from lethal levels of rodenticides while they were in Massachusetts over the winter of 2017/18 (from Mass Audubon)
"Most rat poisons kill more than rats—they also pose a fatal threat to birds of prey…. This issue should not only get attention when a culturally iconic species like a Bald Eagle dies. Nearly every raptor species is vulnerable to rodenticide poisoning, from Eastern Screech-Owls to Red-tailed Hawks." -MassAudubon ("Rat Poison Is Killing Birds Of Prey, And People Are Finally Paying Attention")
The Charles River eagle was the victim of second-generation anticoagulant rodenticide (SGAR) poisoning. As explained further by MassAudubon:
"Second-generation anticoagulants don't kill rodents immediately. While these rodenticides can kill rats with a single dose (which is why many consumers prefer them), poisoned rats can still live for a few days and continue eating poisoned bait. This delay means that rats can ingest enough poison to kill a much larger animal by the time they finally succumb. While any rodenticide can kill a raptor, second-generation anticoagulants are the most dangerous."
While personal use of these second-generation anticoagulants (SGARS) is already banned in MA, licensed pest companies can still use it when hired to deal with rodent problems. 
Proposed legislation, HD.4206, "An Act relative to pesticides," would do more than protect raptors like bald eagles. It could go a long way to reducing pesticides use across the Commonwealth. This bill would:
require the use of integrated pest management plans on public lands and publicly-owned property; 

require MDAR (Dept. of Agricultural Resources) to use an online database for pesticide use reporting records; 

require pest control companies to discuss IPM with consumers when they are providing services; 

require MDAR to create some educational programs regarding IPM.
This legislation is cosponsored by Animal Legal Defense Fund, The Humane Society of the United States – Massachusetts, Mass Audubon, MSPCA, New England Wildlife Center, NOFA/Mass and Raptors Are The Solution (RATS) 
Please contact your legislators today to ask them to cosponsor HD.4206, "An Act relative to pesticides," and share this article with your networks. 
"Integrated Pest Management" (IPM) is an "ecosystem-based strategy" which focuses on long-term prevention of pests through such techniques as biological control, habitat manipulation and modification of cultural practices. (To be clear, IPM may still include toxic pesticides as a "last resort…")
"The struggle to control mice and rats is usually viewed in terms of humans vs. rodents, but wildlife such as birds of prey are often not recognized as players in this battle," said Dr. Maureen Murray, Director of Tufts Wildlife Clinic. "Many people are surprised to learn that the mouse poison they use in their basement can also kill the great horned owl hooting in the neighborhood." 
Please also learn and share what we can all do to decrease reliance on rodenticides…
From MassAudubon:  (Don't) pick your poison
Prevention is the best cure for rodent problems. Rodent infestations only occur when there's an easy source of food. Make sure your trash cans are scavenger-proof, cover vegetable gardens with net or wire, attach tree guards to the trunks of fruit trees.

Limit access to shelter and hiding places that appeal to rodents. Seal up holes in your attic, basement, crawl spaces, and shed, and remove tree limbs within three feet of your roof.

Consider alternatives to poison. The

Tufts Wildlife Clinic

points out, "People often believe poisons are more humane than snap traps, but an animal bleeding to death is neither quick nor especially humane."

If a rodent problem has gotten out of hand and you choose to use an exterminator, try to pick one that practices "integrated pest management"— a multi-pronged approach that avoids chemical control methods.

Finally, call your town or city hall and ask how the local government addresses rodent control. Suggest eliminating rat poison if it hasn't been done already!