By Marty Dagoberto, NOFA/Mass Policy Director
We have some great news about the Healthy Soils Bill in this issue. Take a moment to celebrate, but not too long: we need to get calling legislators to cosponsor the slate of pesticide reform bills being introduced this month! Also, the Pesticide Board Subcommittee is meeting in February to determine what it will do regarding neonicotinoids – we encourage our members to attend.
Action alert: Call for legislative cosponsors by March 5, 2021
As we outlined in last month's newsletter, we are beginning the new legislative session with strong momentum for legislative action on pesticides. The glyphosate ban bills we were working on last session are being reintroduced, along with a couple of other pesticide reform bills outlined on our action page.
We need you to take action this month: Please use this page to ask your legislators to cosponsor these bills and share this page with your networks.The bill filing deadline was extended until February 19, 2021, which means that the window for cosponsors extends at least until March 5th. We need all supporters of pesticides reduction in our commonwealth to contact their legislators this month. The more calls/emails, the more cosponsors, the more momentum toward passage we'll gain.
Public meeting of Pesticide Board this month – will they restrict neonics use?
The Pesticide Board Subcommittee, which held a well-attended hearing on neonic pesticides in December (ICYMI – read about it in last month's newsletter), will be considering at their February meeting if/how they will restrict use of these pesticides. This is an important moment for them to know that WE ARE WATCHING. Their own scientific literature review provides a compelling case for restricting use of neonics in Massachusetts. All we need them to do is hear the science over the objections of the chemical industry.
Can you join the virtual meeting and hold them accountable? We are awaiting confirmation of the meeting details, but have heard it will occur on February 16, 2021 at 9am. We will post the details to our policy webpage and Facebook page as soon we obtain them. Please plan to join the Zoom meeting if you are able.
At the hearing last December, more than half of the legislature endorsed a statement demonstrating an increasingly held belief that they can't leave it to the state's Pesticide (rubberstamp approval) Board to reduce pesticides use:
"Despite concerns about neonicotinoids being brought to the Department's attention repeatedly by the Attorney General's office, legislators and others since 2014, the [Pesticide Board] Subcommittee failed to initiate an independent review or take any consequential action until 2019, when legislatively required to do so. This inability or unwillingness to respond to concerns that clearly fall within its purview raises concerns about whether the Subcommittee is able to fulfill its charge under the law to regulate pesticides." – Joint testimony presented by Rep. Carolyn Dykema at the December 10th hearing of the Pesticide Board Subcommittee (read more about that day, here)
While we continue to push for meaningful pesticide reform through our legislative process, we are hoping that with the Pesticide Board's neonic literature review complete, they will at least take the minimum reasonable step of ending consumer use of this pollinator-killing class of pesticides.
Governor Baker signs the Healthy Soils Bill!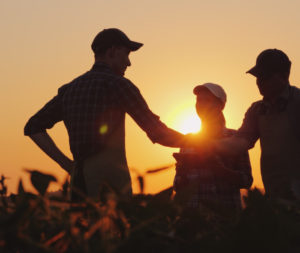 GOOD news for healthy soils, healthy food and a healthy climate: The Mass. Healthy Soils Bill that we have all been working on for four years just became law!
This healthy soils legislation creates a fund and a program to provide education, technical assistance, and financial incentives to farmers and land managers to utilize healthy soil practices, thereby improving soil health throughout the Commonwealth while supporting farmers and promoting sustainability. Healthy soil practices include no-till or low-till farming, use of cover crops, reduction in synthetic fertilizer and more.
The timing is perfect, as the state is also about to finalize its first roadmap for healthy soils, the Healthy Soils Action Plan, another project which we at NOFA/Mass had the honor of helping to create. The next step will be to seek budget appropriations to fund the program during the upcoming budget season.
Unfortunately, this great news came just minutes after we were devastated to hear that Governor Baker vetoed the Next-Generation Roadmap Climate Bill that so many of us have been working toward. As of the time of writing (1/22/21), efforts are underway to ask legislators to refile the bill and override the veto. (Find the latest at 350 Massachusetts' website.)
Please join us in thanking our legislators for creating the Healthy Soils Program, ask them to support future appropriations to fund it AND encourage them to swiftly refile the climate bill and override the Governor's veto!
Pick up the phone and call your legislators and/or send them a message within seconds, here: http://bit.ly/MASoils 
We are so grateful to our legislative healthy soils champions for shepherding this bill through the labyrinth on Beacon Hill: Senator Jo Comerford and Representative Paul Schmid. As co-chairs of the Food System Caucus, they helped us to elevate awareness of soil solutions among their peers. We look forward to continuing our work with them to get the Healthy Soils Program funded this budget season!
Senator Comerford had the strategic insight to add the Healthy Soils Bill as an amendment to the "must-pass" Economic Development bill, highlighting the importance of healthy soils practices for the economic viability and climate resilience of our farms. After 6 months of private negotiations, the bill was reported out of conference committee and passed by both chambers during the final hours of the legislative session in the early morning of January 6th. It was signed by the Governor on the evening of January 14th, 2021.
This victory is shared by our broad coalition of farmers, gardeners, soil-lovers, water protectors, climate activists and local agriculture supporters. Thank you to the 37 organizations who joined in pushing for our bill to be included in the Economic Development bill and others who have spoken in favor of this measure (listed below). Thank you to the 21 farmers who joined us at the State House in February 2020 to explain to legislators the importance of building and protecting soil health. And finally, thank you to the thousands of residents who contacted their legislators to pass this bill. This is just the beginning; we need to keep speaking for the soils!
As a commonwealth, we must scale out healthy soils practices so that everyone has access to nutrient dense, climate-friendly food. By promoting healthy soils practices, the state government will help our farmers improve crop quality, economic viability and climate resilience.
Thank you to our broad coalition of support for Healthy Soils!
350 Lowell node 
American Farmland Trust 
Beyond Pesticides 
Berkshire Grown 
Biodiversity for a Livable Climate 
Bionutrient Food Association 
Boston Catholic Climate Movement 
The Carrot Project  
Central Mass Grown 
City Compost 
CISA – Community Involved in Sustaining Agriculture (CISA) 
Climate Action Business Association 
Conservation Law Foundation 
Cooper Shop Farm 
Earthjustice 
Elders Climate Action Massachusetts 
Endever Agriculture Group, LLC 
Environmental League of Massachusetts 
Find the Good and Braise It 
Franklin County CDC 
Grow Food Northampton 
HealthLink 
Island Grown Initiative 
Lexington Global Warming Action Coalition 
Lexington Community Farm Coalition 
Long Life Farm 
Mass Assoc. of Conservation Districts 
Mass. Audubon 
Mass. Food System Collaborative 
Massachusetts Forest Alliance 
Massachusetts Rivers Alliance 
Massachusetts Sierra Club  
Metropolitan Area Planning Council 
Mothers Out Front 
Mystic River Watershed Association 
New England Farmers Union 
New England Small Farm Institute 
Ocean River Institute 
Pioneer Valley Biochar Initiative (PVBI), South Meadow Farm & Research Center 
Seeds of Solidarity 
Regeneration Massachusetts 
Shared Harvest CSA 
Soil4Climate 
South Meadow Farm & Research Center 
Sustainable Business Network 
The Carrot Project 
The Garden Artist  
The Nature Conservancy 
The Nature Conservancy in Massachusetts 
The Trustees 
Western Mass. Climate Action Now 
Wright-Locke Farm